Smart nappy uses QR codes to detect urinary infections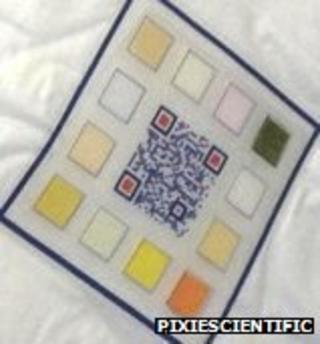 A husband-and-wife team in the US has invented a nappy that can detect if a baby is developing urinary problems.
The "smart nappy" uses strips in its absorbent area that change colour, around a patterned quick response (QR) code.
A mobile app then takes a photo to analyse whether the panels show colours indicating an infection.
But parenting experts have raised concerns that the idea could make parents more stressed.
Urinary tract infections (UTI's) affect about 8% of babies, especially girls.
The infections can be hard to detect before they have fully developed and symptoms such as fever and increased irritability show up.
The smart nappy acts as a kind of early warning health system, alerting parents to a potential infection before it becomes a real problem.
Different coloured squares measure interaction with the urine's components, including water content, protein and bacteria.
Parents would be expected to scan a smart nappy in once a day to provide a build-up of data in the iOS or Android app, which could also be shared with medical professionals to diagnose possible kidney dysfunction or dehydration.
But UK-based advice website Netmums says it is concerned this type of technology discourage parents from using common sense.
"Although at first glance it may seem like a clever idea, in reality it will probably leave sleep-deprived parents even more stressed and paranoid about their baby's health," said the site's founder Siobhan Freegard.
"As with any medical device which relies on users interpreting a coloured strip, there is room for error which could see children being dosed up with medicines they don't need and lots of extra GP visits 'just in case'."
Dr Su Laurent, from the Royal College of Paediatrics and Child Health, said she was worried the nappy warning system would suffer from "false positives" - incorrectly identified infections - leading parents to make unnecessary trips to their GP.
Susie Boone, editor of the Madeformums review site added that she thought parents should be able to spot most problems without needing a smartphone app.
"Whenever you change a nappy you'll notice changes in odour, consistency and volume of wee that's been absorbed, which may indicate a potential health issue," she said.
"Do we need an expensive high-tech nappy that does this for us? The answer's got to be no, unless your child has persistent urinary infections, when this could be a useful aid."
Diaper data
The Smart Diaper is the invention of Jennie Rubinshteyn and Yaroslav Faybishenko. They were inspired on a drive back home to New York when their one-year-old daughter was crying in the back of the car.
"We realised she wasn't just sitting in a diaper full or urine but in a diaper full of data," they said.
Mr Faybishenko said he thought the nappy would cost about a third more than regular disposables - a price tag which parenting website Babycentre said might be a barrier to adoption.
"Any new mum or dad will tell you that babies get through a lot of nappies and are something that parents are already spending a significant amount of money on".
The couple's start-up, PixieScientific, needs to put the idea through medical tests before it can convince regulators to approve it.
And it is up against the clock too. The company has only two months to convince potential investors through crowdfunding site IndieGogo to raise $225,000 (£150,000) to make it possible to begin production. So far it has raised only a fraction of its goal.
It also faces competition from established nappy makers. In May Huggies announced the TweetPee device, a moisture-measuring sensor that clips onto a nappy and then sends a message out to tell parents when their offspring need changing.