RSS apps face teething troubles post-Google Reader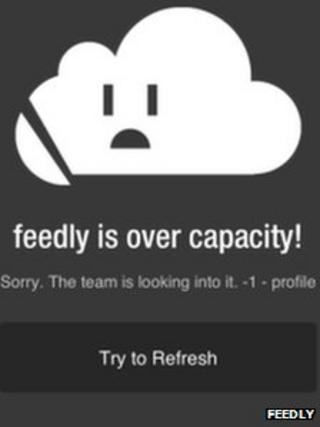 Former users of the Google Reader RSS news feed service are facing glitches on some of the alternatives hoping to take advantage of its demise.
Feedly's mobile apps are showing some people an error message saying it is "over capacity".
A number of its desktop users have also complained the feeds they subscribe to appear to have been deleted.
Meanwhile, Flipboard is showing some a "no content" alert, having previously promised to safeguard their accounts.
Google shut down its RSS (Really Simple Syndication) product just after 8am BST.
When it first announced the move three months ago the firm said it wanted to give users "sufficient time to find an alternative feed-reading solution".
It continues to offer its Takeout tool which exports users' lists of RSS feed subscriptions as an OPML file so that the information can be imported into other products.
The facility will stay online until 15 July after which time the data will be deleted.
Missing feeds
Although the error message brought up by Feedly's iOS and Android apps indicates the service is struggling with demand, the firm said the problem was in fact caused by a login bug.
Feedly says Google began sending it data in the HTML computer language rather than in Javascript last night and the change had caused it problems.
It said it had since released an updated app that fixed the problem for Android devices and that a new version for iPhones should become available over the next few days.
The firm also confirmed it was also looking into a separate problem affecting some people who had migrated their data from Google and were now trying to use the service on desktop computers but found that their subscription lists appeared to be empty.
"We're 100% committed to fixing the problems," Feedly's chief executive Edwin Khodabakchian told the BBC.
He added that while his product did not currently import OPML files, it would soon gain the functionality meaning users experiencing the problem could export the data from Google and reload it en masse into Feedly at some point over the coming days.
The California-based firm reported it had 12 million users at the end of May, three times the number it did before news of the Google Reader shutdown.
'Not ready'
Flipboard has indicated that its problems will be even shorter-lived.
The app - which collects stories from a range of social media and websites in addition to RSS feeds - had previously promised its members: "Your Google Reader subscriptions will be safe on Flipboard".
However, shortly after Google's switch-off matters appeared to go awry with some users told there were "no new items" to download and others that there was no content at all to view in the Google Reader section of its product.
A statement on its site now says: "Your Google Reader feeds and folders are safe. Our system just needs some time for the all content for all feeds to populate. Thanks for your patience."
The firm said it expected to have completed the transition by the end of day.
Reeder - a popular RSS tool for Apple products - is also facing a bumpy crossover.
The product's Swiss developer Silvio Rizzi has released a new app for iPhones which can make use of RSS feeds gathered from a variety of sources.
However, he was unable to update his iPad and Mac apps in time and has temporarily pulled them from Apple's online stores.
"It's not that I don't want to update these apps, I'm just not ready yet." he tweeted.
He acknowledged that he might lose customers as a result but added: "I prefer this to releasing something half baked."
Another newly launched service Digg Reader does not appear to be suffering problems.
However, the New York-based team behind the service - which only became available to the public three days ago - acknowledged they still needed to add "key features" including the ability to mark an item as being "unread" and an option to display only unread items.
Social networks
Google Reader had been the most popular tool of its kind to allow users to keep across the latest stories posted by their favourite websites without having to visit each one.
However, the rise of Twitter and other social media networks meant many people had turned to them as an alternative way to keep up to date.
Google already runs its own Google+ network and in April paid an estimated $30m (£18m) for Wavii - a product which creates a customised news feed made up of stories taken from websites, tweets and blogs.
Other free-to-use RSS tools include Digg Reader, Newsblur, AOL Reader and Net Vibes.