Buttercup the Duck gets prosthetic 3D-printed foot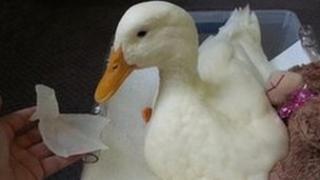 Buttercup the duck is able to walk again thanks to a prosthetic 3D-printed foot.
Born with his left foot turned backwards, the bird had difficulty waddling like a normal duck and could only hobble.
Waterfowl sanctuary Feathered Angels, based in Arlington, Tennessee, asked 3D-printing company NovaCopy to help.
The US company made a 3D model of Buttercup's sister's foot, then printed the prosthetic out of silicone.
A video posted by sanctuary owner Mike Garey shows that the replacement foot, which fits over a nylon sock is taking some getting used to as it is not as flexible as a normal foot, but Buttercup's gait is at least more "duck-like".
The operation is the latest use of 3D-printing to create prosthetic replacement body parts.
In June 2011, a woman in the Netherlands received a new 3D-printed lower jaw made from titanium.
And in May 2013, South African carpenter Richard van As designed a low-cost mechanical hand using open-source software.
Most of the "robohand", which helps people with missing fingers to clasp objects, was made using a 3D printer.
Anyone with access to one can download the design files and create their own prosthetic.