Teenage tech entrepreneurs honoured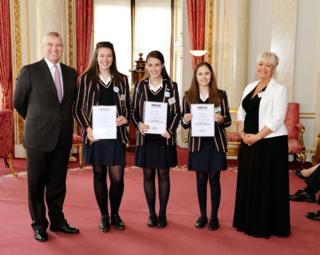 From Greenock to Hull, from Altrincham to Wokingham, teenagers converged on Buckingham Palace on Monday for an event which showed how much ingenuity there is waiting to be tapped in British schools.
The teenagers were the winners in the first Teentech awards, and they came to the Palace to show off their ideas to the Duke Of York.
Teentech is an organisation set up by former Tomorrow's World presenter Maggie Philbin, and is doing an excellent job in communicating the excitement about technology and entrepreneurship to schools. Its inaugural awards in 11 categories, from healthcare to entertainment to construction, attracted entries from hundreds of schools from across the UK.
A panel of distinguished judges - plus a couple of journalists (including me) - assembled at the Royal Society last week to decide who would get a trip to the palace. What was remarkable was how little these teenage inventors had relied on teachers for their ideas. Once set loose on their Teentech projects, they had done it all themselves, although they had not been shy about consulting outside experts both in Britain and overseas for advice and market information.
And it was their commercial nous (much greater than that demonstrated by some of the candidates on The Apprentice) which really stood out. One team came up to me after we'd finished filming at the palace and asked anxiously whether their product would be shown on television. When I said it probably would, their faces fell - they're in the process of getting it patented and didn't want someone else to run off with the idea.
A school of the future designed by pupils at Archbishop Sentamu School in Hull won the construction award. It was packed with clever ideas to cut energy use and make the school a centre for the local community, and the students had done a phenomenal amount of research. The Duke of York was obviously impressed - he spent a long time with the group, struggling to get a word in edgeways as their ideas poured out.
The entertainment category was won by Birkdale School in Sheffield, with a games business which is already attracting interest from the industry. Inspired by Minecraft, they have already built one quite sophisticated game called Infection. All three members of the team have some programming skills, but they divided the tasks up, with one taking charge of media, another working on the media side, and another looking at commercial development. Their teacher realised just how serious they were about their business ambitions when they asked her about starting a Paypal account for their in-game purchases.
It was encouraging to see girls doing so well in many of the categories - and the overall winner of the event was Altrincham's Loreto Grammar School for Girls, with their QuickCheck product. This is a bracelet which is a blood glucose monitor, offering people with diabetes the possibility of keeping an eye on their health without having to lug weighty equipment around. Again, this project showed both great vision and a huge amount of technological and market research.
The Duke of York told the award winners that it was clear that all the ideas were "yours and yours alone" but praised the schools for setting pupils free to think for themselves, and putting them in touch with people who could help in the outside world. He said every one of the projects had an application out in the marketplace - so who knows, perhaps in a few years' time, we'll be talking about a new generation of Teentech Tycoons.