Bebo social network sold to founder for $1m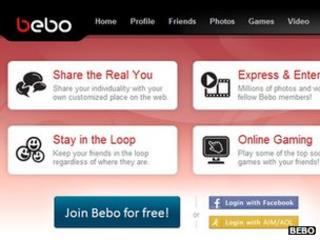 Social network Bebo is set to be relaunched after one of its founders bought the company at auction for $1m (£657,000).
Michael and Xochi Birch set up Bebo which became hugely popular among teenagers in the early 2000s.
It was sold to AOL in 2008 for $850m (£558m) but dwindling users led to it being sold on in 2010 for just $10m.
Bebo sought bankruptcy protection in May and Mr Birch has now bought the company from its receivers.
In a tweet, Mr Birch announced that he had acquired Bebo and revealed his intention to relaunch the network.
"Can we actually reinvent it? Who knows, but it will be fun trying..." he wrote in the message.
Bebo, alongside MySpace was one of the challengers to Facebook in the early 2000s and, at its peak, had about 40 million users. However, it struggled to stay relevant and was eclipsed by Facebook as well as other sites such as Twitter, YouTube, Tumblr and, more recently, Google+ and Reddit.
The decline of Bebo was also blamed on the reluctance of new owner AOL to invest in the social network to help it keep up with rivals. Declining visitor numbers led AOL to sell off the site to Criterion Capital and a consortium of individual investors.
TechCrunch reports that wrangles between Criterion and the investors led to Bebo seeking bankruptcy protection and being put up for sale. This gave Mr Birch the chance to regain control.
Mr Birch's incubator fund Monkey Inferno will be in charge of reinventing the site. So far, it has not released any details of what the revamped site will look like.
In a statement, Monkey Inferno head Shaan Puri said: "We know the odds are stacked against us, but we love challenges and the Bebo users deserve better than what they have received the past few years."
Bebo is just the latest in a series of relaunches of once influential social networks. Social news site Digg has undergone a remake under new owners, as has MySpace.