Twitter Vine users fall after Instagram video launch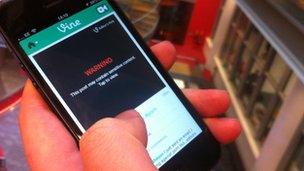 Instagram's new video-sharing tool has had a big effect on Twitter's Vine service, analysis shows.
The number of links to Vine videos on social networks fell by nearly half a million the day after video was added to Instagram's photo app on 20 June.
But an extra 300,000 Instagram links were shared, according to data analytics tool Topsy.
A week later, there were 50% more Instagram than Vine links being shared on the net, Topsy figures show.
On 27 June, data indicates, there were 1,562,022 mentions of Instagram and 935,109 mentions of Vine.
Topsy says its figures include retweets and links but not spam.
"The number of shares over the past few days is similar to early and mid-June. But Vine sharing is way down in the last week."
Twitter launched its video-sharing platform in January 2013. Users are able to upload and share six-second long clips which play in a loop.
Videos shared via Facebook-owned Instagram can be up to 15 seconds long and filters can be added to change the colouring.
Twitter declined to comment.