Pirate Bay founder faces jail over Swedish hack attack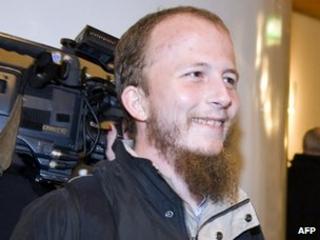 Gottfrid Svartholm Warg, co-founder of the Pirate Bay, has been sentenced to two years in a Swedish prison for hacking into a bank's computers.
A Swedish court found Warg guilty of the hack attacks and associated charges of fraud.
The attacks were carried out against the Nordea banking group and services firm Logica.
Personal data about thousands of Swedes was stolen in the attacks and was subsequently published online.
Warg's accomplice in the attacks, Mathias Gustafsson, was given a suspended sentence and told to seek psychiatric counselling.
Throughout the trial, Warg and his accomplice did not deny that computers they owned were used in the attacks. However, they claimed that other people used these machines remotely to break into the computer systems. The pair declined to name who these other people were.
Despite their claims, forensic experts who testified in the trial said data found on the computers used in the attacks showed that Warg and Gustafsson were the perpetrators.
So far, lawyers for the two men have not said whether they plan to appeal against their sentences.
Warg is currently serving a 12-month jail sentence after being convicted in 2009 of internet piracy for being part of the team that ran the Pirate Bay. The website provides file-sharing links that let people get hold of pirated music, movies and games.
The sentence does not mark the end of Warg's legal problems. In early June, a Swedish court agreed that he could be extradited to Denmark to face questioning there about a separate hacking incident.