App developed for cats to "take" self portraits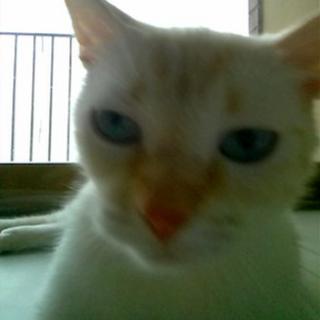 The internet's love affair with zany cat pictures has been combined with the craze for self-portraits to create an app likely to appeal to feline fans around the world.
The Snapcat app has a rapidly moving icon to attract the cat and if it touches the screen, it will automatically take a photo.
It was recently one of the winners at a photographic hackathon in Berlin.
The Android app has been downloaded 10,000 times, say the developers.
"I had a cat and I was looking for an idea for the hack day and I thought that cat selfies would be a good idea," said Matias Castello, a product manager at photo-sharing app EyeEm.
"Some crazy people thought it would be funny to build it."
The team adapted already existing apps that allow cats to chase an icon on the screen.
"We wanted to enable cats to take their own photos because it is funny if it works," he said.
With three other colleagues he entered the competition and the app won several prizes.
Photo Hack Day, which took place at the beginning of June, is a 24-hour coding marathon aimed at making prototypes of photo applications.
Popular cats
Since then Snapcat has received some media coverage and downloads of the app now stand at about 10,000 according to Mr Castello.
Users need photo-sharing app EyeEm in order for the app to work.
Cats continue to be a massive hit online and this is the latest in a series of apps aimed at the pet audience.
Such games have proved lucrative and there is a series of games developed for iPads, such as Cat Fishing from Pet food company Friskies.
At the beginning of the year, the first exhibition dedicated to "lolcats" - pictures and videos of cats doing amusing things - opened in London.
At the same time the rise of the "selfie" - self-portraits taken by people and posted online - has been documented.
The word "selfie" is currently being considered for inclusion in the Oxford English Dictionary Online.