Sharp brings giant-sized 90in TV to Europe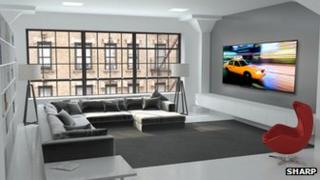 Sharp has released what it says is the biggest LED TV ever to go on sale in Europe.
The Aquos LC-90LE757 features a 90in (229cm) screen, trumping an 84in display from LG.
Sharp has offered the size in the US since June 2012 - the world's biggest market for jumbo-TVs - but said it now believed there was demand in the UK and rest of Europe for such a set.
One analyst said the local market was indeed growing, but remained "niche".
Fifty inch-and-larger TVs represent 6% of units currently sold in the UK, according to research firm GfK. However, it adds that the sector accounts for 16% of the sector's value due to the premium prices they command.
The trend is even more advanced in the US. According to the Consumer Electronics Association, 8% of all TVs sold in the country feature screens 60in or larger.
"In the States people have bigger houses and bigger rooms, so large TVs represent a larger proportion of the marketplace," GfK's Nigel Catlow told the BBC.
"But as the TVs get thinner, more rooms are able to take a big TV set, and screen size is the biggest driver for making people want to buy a new product."
Sharp posted a 545bn yen ($5.7bn; £3.7bn) net loss in its last financial year. It has since said that it is pursuing high shares of relatively small markets as part of its turnaround strategy.
Pixel scaffolding
Sharp's new TV uses a liquid crystal display with LED (light-emitting diode) backlighting, weighs 64kg (141lb), and is less than 12cm (4.7in) deep.
It supports 3D broadcasts, has three tuners - allowing several channels to be watched at once - and also offers a "wallpaper mode", which can display a static picture at a low brightness level when it is not otherwise in use.
The firm says owners need to sit at least 3.5m (11.5ft) away to enjoy its picture.
"The biggest challenge we had was to try to hide the framework that is encasing the screen's pixels," explained Sharp's UK product manager, Tommaso Monetto.
"We used a technology called Fred [frame rate enhanced driving] to minimise the structure holding the pixels together so that you hardly see the lines between them, and it becomes a seamless panel when you look at it from the front."
In the past, Sharp and other firms' 3D TVs created a different image for each viewer's eye by sending two signal lines from the device's motherboard to the display. The firm's proprietary Fred technology uses a single signal line driven at a higher speed to provide the necessary information, minimising the amount of wiring and electrical components needed.
"The plan is definitely to go bigger," Mr Monetto added.
"The long-term view is that eventually you will have entire walls that are made out of LCDs, and you can allocate different spaces for different usage. Part will be used for TV signals, part for surfing the internet and part to show pictures."
Panasonic does sell even bigger displays, offering 103in and 152in screens.
However, they are based on plasma technology making them thicker and heavier than Sharp's LED model. They are also several times the price and Panasonic pitches them at the professional market rather than at consumers.
4K v 1080p
Sharp opted to make its screen support 1080p video and not the ultra high definition 4K format which uses four times as many pixels.
The advantage of the higher definition format is that owners can sit closer to their screen, allowing a smaller set to take up more of their field of view - and thus appear more immersive - than one limited to 1080p resolution.
Sharp said it took the decision because there was a current lack of 4K content.
It has also allowed it to keep its price down. Sharp's new set costs about £12,000 compared to the £17,000 charged for LG's 84in Ultra HD LED model.
Even so, at that price its appeal may still be limited.
"You won't get serious sales volume until you get below around £2,000 to £3,000," said GfK's Mr Catlow.
"However, it will open up a bigger market because there have been some 70in and 84in sets out there that were recently selling for £20,000."