US Navy ends dependence on capitalised communications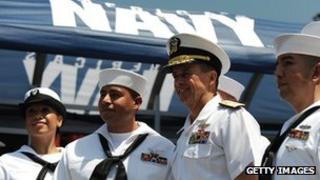 The US Navy is dropping a requirement that its official communications be issued in capital letters.
A message was sent to all commands on 30 April, notifying them signals would soon be able to use a mixture of lower and upper cases.
The former policy was a legacy of the fact teletype machines adopted in the 19th Century did not have lowercase letters.
The order itself was delivered in all capitals.
"Lower case messages are here to stay; they provide a more readable format, which can be delivered to and shared on any of the current Web 3.0 technologies (chat, portals, wikis, blogs, etc)," said James McCarty, naval messaging program manager at US Fleet Cyber Command, in a press release.
He added that the move was part of a shift to a new system called the Command and Control Office Information Exchange (C2OIX), which would come online in August.
It will allow signals to be delivered by email, which the navy says will save it about $15m (£9.5m) a year.
Mr McCarty acknowledged it would take until 2015 to ensure all the navy's systems were able to cope with mixed text, and until then C2OIX would have to convert messages into upper case where necessary to allow the legacy equipment to process them.
"The US Navy has made up its mind that not everything is a crisis and some messages are just normal," Michael Clarke, director of the Royal United Services Institute think tank in London, told the BBC.
"It may also raise a generational issue - as many senior officers think that the younger ones don't know how to use capitals anyway, which is to say they either use far too many or not at all.
"This will introduce a degree of literary criticism into military communication."