Facebook follows Twitter by adding clickable hashtags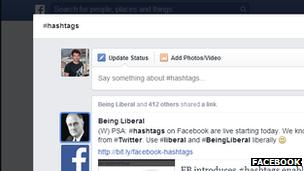 Facebook is adding support for hashtags to help its members keep track of popular topics being discussed on the social network,
Adding the "#" sign to a word will turn it into a clickable link which brings up a feed of what other people are saying about the same topic.
Using hashtags to identify a theme was popularised on the internet by Twitter.
Facebook said it offers a "larger view of what's happening". Experts said it might also aid ad sales.
Other services that support hashtags include Pinterest, Tumblr, Google+, Sina Weibo, LinkedIn and Instagram, which is owned by Facebook.
The news was announced on the California-based firm's news page.
It said clicking a hashtag would bring up a chronologically ordered list of comments using the same term, including posts from people and pages they were not friends with and had not liked.
"Hashtags are just the first step to help people more easily discover what others are saying about a specific topic and participate in public conversations," it added.
"We'll continue to roll out more features in the coming weeks and months, including trending hashtags and deeper insights, that help people discover more of the world's conversations."
Users can still limit who can view their hashtagged posts.
"I think they saw the success Twitter had with the concept and they saw no reason why they shouldn't co-opt some of that thinking themselves," said Andrew Frank, a social media analyst at the consultants Gartner.
"Hashtags are also popular with advertisers. They are a way to extend the value and reach of advertising."
Facebook does not currently allow advertisers to target people posting a specific hashtag or to sponsor a hashtag - as is the case with Twitter.
But one industry watcher suggested that might change if it wanted to target growing "real-time marketing" budgets - money spent on adverts whose timing is determined by live trackable consumer behaviour.
"People are having conversations about things like the Superbowl and Oscars on Facebook, but most of those messages haven't been public, so marketers haven't been able to get at that signal and know about the conversation an audience is having while they're doing it," said Cotton Delo, digital and technology writer at Advertising Age magazine.
"At the moment Facebook is not monetising that, but it would be surprising if it doesn't at some point."
Related Internet Links
The BBC is not responsible for the content of external sites.