Modem to improve African net access
By Jane Wakefield
Technology reporter, TEDGlobal, Edinburgh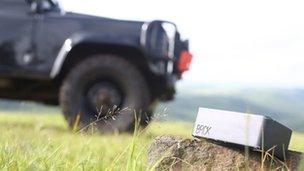 A modem designed specifically for Africa has been announced at the TEDGlobal conference in Edinburgh.
The device combines rugged design with a range of connectivity options, switching between wi-fi, 3G and fixed broadband.
Ushahidi, the Kenyan tech firm behind BRCK, believe Africa-specific hardware is long overdue.
Director Juliana Rotich hopes it will kickstart a hardware revolution on the continent.
Ushahidi - a Swahili word for "testimony" - began life designing software to monitor the 2008 Kenyan elections.
Since then, its open source software has found worldwide fame and a diverse range of uses, from helping victims of the Haiti earthquake and Japanese tsunami to fixing potholes.
Talking to the BBC, Ms Rotich, who is also a senior TED fellow, explained how the team was fed up with making do with hardware that had never been designed to cope with the specific issues faced in Africa.
"While Africa may have joined the digital revolution and mobile is becoming ubiquitous, internet connectivity is not always reliable and the price of connecting is high," she told the BBC.
"We get online and then there is a power cut and we are plunged into darkness and the internet connection goes down."
It led her to ask: "Why do we use technology designed for London and Los Angeles when we live in Nairobi and New Delhi?"
The answer was obvious: "Design your own hardware."
The BRCK works like a mobile phone, switching between wi-fi and 3G when a fixed line network is down.
Users can also plug in a SIM card to offer a network anywhere in reach of a mobile tower.
The BRCK has an eight-hour battery and also has a cloud-based software which means it can be accessed from anywhere to see how wi-fi and electricity are performing or to manage alerts and applications.
For remote villages where even a mobile signal is hard to find, there is also an antenna to boost signal strength.
The team is also looking at finding cheap ways to hop on to the satellite network.
Beyond the practical benefits of the device, Ms Rotich is hopeful it can kickstart a hardware revolution in Africa.
"It is currently extremely difficult to do hardware in Africa," she said.
"Getting components can be a logistical nightmare. We had people carrying components from the US which led to some interesting conversations with border guards," she said.
Ushahidi is hoping to set up a Kenyan-based Makerspace to allow more hardware to be developed specifically for the African market.
The BRCK will go on sale in November with a price tag of $199 (£130).