Electronic Arts: Video games firm wants to stop being 'hated'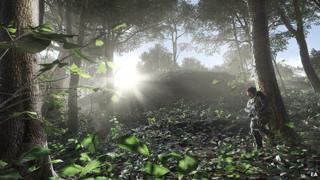 "Can a computer make you cry?" It's 30 years since video games giant Electronic Arts ran an advert asking that question, adding that it believed the medium had the potential to "bring people's thoughts and feelings closer together".
Three decades on, if its audience is indeed weeping in unison, it may be in frustration.
EA has been voted the "worst company in America" two years running in an online poll by Consumerist magazine, and comments posted by gamers to other sites - complaining of "price gouging" and "arrogance" - confirm many dislike it.
Speaking to the BBC, Frank Gibeau, EA's president of labels, acknowledges his firm has an image problem.
"That type of feedback is disappointing personally for people inside of EA because we love our company and the games that we make," he says.
"We're in the business of entertaining and exciting people, and when our business policies get in the way of that and we hear this reaction and see this feedback we have to take note of it. We're not tone deaf."
'Generic games'
Criticism of big business is nothing new, and Electronic Arts's status as the world's second biggest games publisher puts it firmly in the firing line. But the editor-in-chief of news site Game Front suggests in this case real change - rather than lip service to the idea - is required.
"EA might be a scapegoat for larger industry trends beyond its control, but a big part of the hatred has to be an image of not caring what players think or want," says Mark Burnham.
"Practices like charging for DLC [downloadable content] on day one of a title's release and online passes [requiring buyers of used games to pay extra for access to online content and services] aren't loved, and you can couple that with what many players see as a tendency to try make games more saleable to wider audiences - and therefore, much more generic and homogenised."
Mr Gibeau notes that EA has already ditched charges for online passes, ending a policy which meant second-hand game buyers needed to pay the publisher if they wanted to unlock bonus online content already bought by the original owners.
But he defends other controversial strategies, such adding micro-transactions to premium games.
The idea of giving away software for free but charging for virtual goods was popularised in Asia as a way to combat piracy. Some gamers are uncomfortable with its extension to console titles, which cost up to £50.
A decision to charge between £2.39 and £11.99 for suit and weapon upgrades in EA's sci-fi horror sequel Dead Space 3 proved particularly controversial.
Mr Gibeau acknowledges the move damaged perceptions of the title, but suggests that was because the optional nature of the feature was misunderstood.
"We never think of micro-transactions as a gate or a place you have to pay to win," he says.
"If a micro-transaction exists in an online service - which is usually where we place it, like in Fifa Ultimate Team - it's tied to an experience and a price-value proposition that you either feel good about or you don't.
"When we get it right it feels great and people are really happy about it. When we don't get it right or it's misunderstood, like in the case of Dead Space, that's not good and we make changes accordingly."
New ideas
When it comes to the type of games EA makes, Mr Gibeau makes no apology for a "fewer, bigger, better" strategy, even when that involves job cuts.
"In the console business there frankly isn't much of a business for games outside of the top 20," he says.
"You have to really get into the charts to make the initial investment in these games work. We're really trying to create epic products that have a chance to reach the widest possible audience."
As a result EA is willing to keep pumping out sequels to successful franchises such as its Need for Speed racing games, Battlefield war series, Tiger Woods golf simulations and Dragon Age role-playing titles.
But when sales sputter - as was the case for its most recent Medal of Honor and Army of Two shooter franchises - the series are promptly "rested".
But, Mr Gibeau adds, EA is also willing to invest in fresh ideas, such as Titanfall - a futuristic first-person shooter developed by independent studio Respawn Entertainment.
Moreover, he stresses that EA has learned from past mistakes to ensure its customers get the most out of the new Xbox One and PlayStation 4 consoles, whichever games they buy.
"The last console generation, we frankly didn't make the investment in engine technology that we did this time," he says.
"It left us in a position where our launch wasn't as smooth or a breakthrough as we wanted."
This time, he says, EA has poured money into two next-generation games engines well in advance: EA Sports Ignite and Frostbite 3.
"It's not just about [better] graphics, it's content and online features too," he says.
"If you can support just two engines instead of the 13 to 14 we were supporting over the last cycle... you can focus on making great games."
Options open
EA's stance on Nintendo's Wii U - which went on sale in November - is less clear.
When the Japanese firm unveiled the console at the E3 games expo in 2011, EA's chief executive John Riccitiello took to the stage to announce an "unprecedented partnership" between the two firms.
Two years on, Mr Riccitiello has stepped down after missing financial targets, and other EA executives have made conflicting statements about their commitment to the platform.
"We didn't make it easy for the market to figure out our stance on the Wii U, that's for sure," says Mr Gibeau.
"We're not announcing any new Wii U titles at E3, but that doesn't preclude us making games for it going forward."
When pushed to clarify whether EA has any Wii U titles in the works he is deliberately vague.
"Do we have developers inside Electronic Arts that are watching the Wii U and understanding how it's developing? Yes, we're absolutely doing that. Do we have active development of Wii U titles that we're ready to publicly announce right now. No we do not."
Despite his enthusiasm for Sony and Microsoft's new machines, Mr Gibeau says that he believes sales of smartphone and tablet games will be the fastest growing segment of the industry for the foreseeable future.
And when asked if the new consoles could be the last of their kind, he says gaming on a big screen will likely prove "resilient" but notes that in its time EA has outlived several platforms "from the Amiga to the Sega Genesis".
As the interview ends, there's time for one last question: Will EA deliver on its promise and make us sob for the right reasons?
"I think we're right about there," he says.
"Certainly the Mass Effect 3 ending caused a few people to cry, so I think we achieved some level of emotional impact towards the end of the last cycle. And as you look at the fidelity of experience on generation four, 'Can a console make you cry?' is going to be possible over the next several years."