Caterpillar backs eye-tracker to combat driver fatigue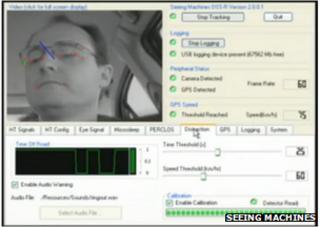 Eye and face-tracking technology that aims to prevent accidents caused by fatigue is being rolled out by the world's biggest mining equipment maker.
Caterpillar is to sell a package of sensors, alarms and software which detect when a truck driver is about to fall asleep.
BHP Billiton and gold producer Newmont Mining have already carried out trials.
The firms believe it out-performs earlier systems that needed workers to wear special equipment.
Driver Safety Solution (DSS) also benefits from the fact it does not need to be recalibrated when one worker swaps shift with another.
The product was developed by Australian firm, Seeing Machines, which secured the tie-up with Caterpillar after a panel of experts selected it over 21 rival technologies.
It will cost up to $20,000 (£13,260) to install on each vehicle, although a discount applies if it is bought in bulk.
According to the Parker Bay Company, a mining research firm, there were approximately 38,500 active mining trucks in service at the end of last year.
Buzzing seats
DSS uses a camera to detect a driver's pupil size, how frequently they blink, and how long they keep their eyes shut. In addition it tracks where the user's mouth is in order to work out when the workers are not looking at the road.
To help identify these features truck cabs are also fitted with an infrared lamp. Its light is invisible to humans, but allows the camera to see in the dark and through employees' safety glasses.
An accelerometer and GPS chip are also installed to confirm the truck is being driven at the time, and the data is processed by a computer mounted behind the driver's seat which is designed to cope with strong vibrations and dust.
The aim is to detect the onset of micro-sleep - periods when a person passes out for anywhere from a fraction of a second to up to half a minute, and then wakes up again without realising they lost consciousness.
If the computer's software believes this has occurred it triggers an audio alarm and vibrates a motor built into the driver's seat to rouse them.
An alert is also sent back to the miner's support staff who can view a streamed video feed of the driver's eyes and view data about their recent behaviour.
"Dependent on the organisation's fatigue mitigation policy, they will then decide what to do with the driver," explained Ken Kroeger, chief executive of Seeing Machines.
"For most mining companies the first incident doesn't result in any communication. The second one will result in a radio call to see if the driver is OK and possibly get them to pull into the fuel depot and get a cup of coffee to help them keep going.
"And the third incident will result in them being assigned some other tasks instead of driving."
Mr Kroeger suggested that in time a similar camera-based warning system might become as "common as airbags" across the auto industry.
For now he acknowledged that the system was not perfect: for example, if a user glances down, the camera loses sight of the driver's eyes and sounds the alarm.
Even so, a spokesman for Newmont Mining told the BBC it believed DSS had reduced fatigue-related incidents by 90% during a pilot study at one of its sites in Nevada.
Fatigue kills
Research suggests that fatigue is a major problem for the trucking industry.
A 2011 Brazilian study indicated sleepiness caused 4.5% of truck crashes on the country's roads, and almost 50% of incidents were caused by "inattention".
Another study the same year based on coroners' inquest examinations suggested driver fatigue caused about 10% of reported truck crashes in Australia.
Experts say these figures may still underestimate the problem.
"Fatigue is difficult to identify post-crash because there are no physical markers, like the sort that can be identified using blood tests, as for drugs and alcohol," Dr Daniel Blower, from the University of Michigan's Transportation Research Institute, told the BBC.
"The best estimate that I have seen is that the true incidence of fatigue in truck crashes is likely to be two to three times higher than in the captured crash data."
Although miners have been able to limit some of the more common causes of collision - such as speeding and mechanical defects - tiredness remains a problem. According to Caterpillar's own data, operator fatigue was a factor in 65% of truck haulage accidents in 2007.
Tiredness trackers
Seeing Machine's product is not the only one targeting the issue.
The cheapest solution is head-nod sensors - either built into workers' helmets or hooked around their ears - but the nature of the drivers' job means false alarms can be a problem.
Australia's AcuMine offers a product called HaulCheck which uses laser scanners and guide posts along truck routes to sound an alarm if trucks head off-path.
Another Australian firm, Optalert, monitors eyelid movements to warn of problems at an earlier point, but unlike Seeing Machines it involves workers having to wear a special pair of glasses.
And British firm Fatigue Management International offers a system called Astid which monitors steering movements to detect exaggerated corrections and other indicators of sleepiness.