Yahoo offers Flickr revamp with 1TB of 'free storage'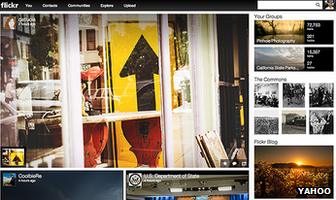 Yahoo has redesigned its Flickr photo-sharing service, offering users up to 1TB of storage without a fee.
The revamp also allows users to host longer video clips and higher-resolution photos, and a new app has been launched for Android devices.
The news came hours after the company confirmed it was taking over blogging platform Tumblr.
One expert said Yahoo's chief executive had "thrown down the gauntlet" to her former employer Google.
"Marissa Mayer is trying to realign the business to focus on a core set of high-traffic properties," said Chris Green, principal technology analyst at consultants Davies Murphy Group Europe.
"The 1TB of ad-supported free storage is the big thing," he said.
"It puts Flickr back on the agenda making it relevant to both hobbyist and professional photographers alike, but it also reignites the whole storage capacity war that started with Gmail and that we are now seeing with cloud file sharing services."
Google offers users a total of 15GB of free storage across its core cloud services. Facebook does not impose such a limit but downgrades the quality of high-resolution photos.
Mr Green added that several industry watchers had been caught by surprise by the announcement as they had believed Yahoo might fold Flickr's technology into Tumblr rather than continue to run the two platforms as separate services.
Yahoo bought Flickr in 2005, taking it over from a husband-and-wife development team who had also been approached by Google.
Although Yahoo increased the site's number of users, it was widely seen to have failed to have reached its full potential, as rivals, including Instagram, Facebook and 500px, rolled out superior social features.
a 1TB upload limit - enough to store more than half a million six-megapixel photos
a redesigned user-interface that fills more of the page with pictures at the expense of white space
a new Activity Feed allowing users to see their own recent uploads mixed together with those of their friends
a new Android app offering a more photo-centric design than the previous version, bringing it closer in line to an iOS update released at the end of last year
a larger 200MB limit on the size of each photo - previously, paid-for accounts had a 50MB limit and free accounts 30MB.
a three-minute cap on playback of video clips rather than the earlier limit of 90 seconds.
Ms Mayer told a New York press conference that the effort was intended to make the service "awesome again" - a reference to Sean Bonner, a tech writer who used the same phrase last year in a blog that pleaded with the chief executive to save the service.
Not all the changes may be welcome.
Those wishing to have an advert-free interface now face a $49.99 (£33) annual charge - double what they needed to pay before.
In addition anyone wishing to double their storage limit to 2TB needs to pay $499.99 a year.
In the past $24.99-a-year Pro accounts offered "unlimited" space.
That potentially offers an advantage to competitors such as Imgur, Shutterfly and 500px that continue to offer packages without storage limits, although they do operate other restrictions.
But one industry watcher said Yahoo had done enough to woo back enthusiasts,
"It will bring back people who left Flickr for other sites," said Chris Cheesman, news editor at Amateur Photographer magazine.
"Offering the ability to host large images in full resolution is a huge benefit over services like Facebook, where they are compressed.
"When that happens, they might still look OK on a phone, but if a pro or enthusiast photographer is showing the images to a client or even friends they would want the best quality - especially when laptops and tablets are introducing higher-quality screens."
Related Internet Links
The BBC is not responsible for the content of external sites.