Guantanamo wi-fi shut down after Anonymous threat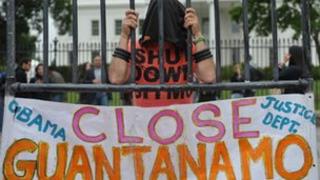 The American military has turned off its wi-fi service inside the prison at Guantanamo Bay following threats by the hacker collective Anonymous.
Access to social networks, including Facebook and Twitter, from military computers has also been blocked because of the threat.
Anonymous had threatened to "disrupt activities" at the base, in solidarity with the prisoners on hunger strike.
It launched "Operation Guantanamo" on Saturday, 18 May.
At the end of April, 100 of the 166 Guantanamo Bay inmates were staging a hunger strike over conditions in the jail and their ongoing imprisonment.
The Anonymous three-day campaign began on the 100th day of the strike.
The group used social media to encourage others to send "twitterstorms, email bombs and fax bombs" in order to raise awareness of the protest.
Protests were also staged outside the White House and the prison itself.
The phone numbers of the White House and various military command centres were also posted on the Anonymous website.
"We stand in solidarity with the Guantanamo hunger strikers," reads a message written by the group.
"We will shut down Guantanamo."
No disruption had been reported so far, Lt Col Samuel House told the Associated Press news agency.