Tumblr and Yahoo: Why sex, jokes and gifs are worth $1.1bn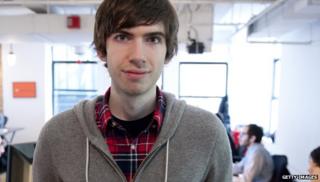 Yahoo is desperate to be cool again.
And, like that kid at school who always got the newest gadgets and video games to impress his "friends", there's seemingly no shortage of money available to get what it wants.
Now, just two months after splashing out millions on a UK teenager's app Summly, Yahoo is set to buy one of the hottest properties in social media: Tumblr.
It will reportedly cost $1.1bn (£723m), a smidgen more than Facebook paid for photo-sharing service Instagram last year.
Yet with users already threatening to leave Tumblr en masse, will simply owning something trendy actually boost Yahoo's internet cred?
"It's very hard to just buy something cool from somebody else and for it to remain cool," says Robin Klein, a partner at technology investors Index Ventures.
"It's important that the leadership at Tumblr comes into Yahoo, stays in Yahoo, and is a key participant there."
Chief executive Marissa Mayer has confirmed that founder David Karp is to stay with the company. Jimmy Wales, creator of Wikipedia, says this is an important component if the site is to remain a success.
"For a long time Yahoo was viewed in the industry as a very marketing-led company such that any respectable technologist would cringe if they had to work there," he told the BBC.
"Marissa is herself a respected technologist, full-on, and a great business person. And I think she is making all the right moves."
Global in-jokes
But what exactly has she bought?
Tumblr describes itself as a way to "effortlessly share anything" using a mixture of text, pictures, videos and various other formats.
In plain English, Tumblr can be best described as something that exists between Twitter and a traditional blog, for people who have more than 140 characters to say - but not much time in which to say it.
This formula has seen the site notch up more than 100 million registered blogs, which between them have published more than 50 billion posts.
The site was set up in 2006, when Mr Karp put together the first bit of Tumblr's code in a two-week period between jobs. Within a year, Mr Karp was - according to his business partner at the time - now the reluctant chief executive of a rapidly expanding start-up.
But the huge levels of traffic came with predictable teething problems. Tumblr soon started to suffer from a lack of stability, with its equivalent of Twitter's "fail whale" - the screen presented when the service was over capacity - becoming a common and frustrating sight for users.
Several rounds of investment later, and with an employee base that has expanded from two back then to 175 today, the ship has been well and truly steadied.
And now, Tumblr thrives. Famed for its lightning-quick set-up speeds allowing people to have a great-looking, full-featured blog in seconds, Tumblr is centre stage in the internet community.
Tumblr's forte lies in viral hits or memes, global in-jokes which capture the mood of sometimes niche but passionate readers.
One recent example, White Men Wearing Google Glass, pokes fun at the ever-so-dorky appearance of those keen to show off Google's latest invention.
Last year's stand-out hit was Texts From Hillary Clinton - a collection of images captioned with humorous examples of what the then US Secretary of State may have been writing.
Clinton herself was a fan - the last image is one of her with the blog's creators.
Tumblr is even credited with bringing about the resurgence of the animated gif - an image format that until recently had been seen as tacky and outdated, but is now a key component of discourse and comedy online.
Not safe for work
All that sounds very appealing to Yahoo and its investors - but there is one elephant in the room that needs to be acknowledged. Or rather, naked people in the room.
Tumblr is bursting with amateur pornography. The company does not give a breakdown of how many of its sites are adult-orientated, but it's clear it has no issue in accommodating them.
The site's terms of service say sharing of explicit pictures is fine - as long as it is clearly labelled as NSFW, meaning not safe for work.
As for explicit video, it's a no-no to use Tumblr's own video feature to upload adult clips, but embedded videos uploaded elsewhere is not a problem - indeed, Tumblr even recommends a specific pornographic site to do just that.
It's an approach that could create problems for Yahoo, predicts Index Venture's Robin Klein.
"This is where segmentation becomes so important," he tells the BBC. "Advertising must go to where it wants to be.
"There's no way advertisers will be happy to end up on porn sites."
US technology news site AllThingsD has reported a "source close to the situation" as saying Yahoo would have a hands-off approach to running the site - porn and all - once it is under their control.
Abandon ship!
But that hasn't stopped some users getting nervous.
"They're going to lose a number of bloggers," predicts Mr Klein.
"I'm sure they've factored that into their thinking. They're going to have to manage this."
Wordpress - a rival blogging platform - reported that more than 72,000 people imported their Tumblr blogs to Wordpress in just one hour on Sunday evening.
Within moments of the news of the probable buyout becoming public, bloggers flocked to Tumblr to express their dismay.
One user wrote: "Tumblr has been my safe place for three years now, and it feels like someone is plunging a white hot poker into the woodwork, and setting it slowly on fire. Thanks Yahoo."
A search for the term Yahoo on the site brings many more examples - some with colourful language.
Yahoo will be hoping that, like so many internet storms, this anger will drift away - leaving behind a highly active, highly profitable bounty.
"Tumblr so far has not made a huge amount of money," says Luke Lewis, UK editor of news site Buzzfeed.
"But the potential is there. The people who use Tumblr are really young, they are really engaged and spend hours a day on Tumblr."
And while seemingly unpopular, Yahoo does at least have one thing going for it, according to one user.
"At least it wasn't bought by Facebook."
Follow Dave Lee on Twitter @DaveLeeBBC