UK-based Lulzsec hackers await sentence after guilty pleas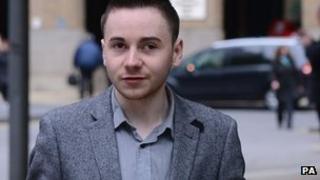 A court has heard that four UK-based hackers involved with the Lulzsec group thought of themselves as being "modern-day pirates".
Ryan Ackroyd, Jake Davis, Mustafa al-Bassam and Ryan Cleary have all pleaded guilty to hacking offences.
Cleary has also pleaded guilty to possession of images showing child abuse, which were found by police on his hard drive.
The men will be sentenced at Southwark Crown Court later this week.
Lulzsec carried out a series of attacks in 2011. Targets included Sony Pictures, video games maker EA, the News International media group and Britain's Serious Organised Crime Agency (Soca).
'International notoriety'
Ackroyd, 26, from Mexborough, South Yorkshire, has admitted stealing data from Sony. The former soldier was also responsible for redirecting visitors trying to visit the Sun newspaper's site to a fake story about News Corp chairman Rupert Murdoch committing suicide.
He has pleaded guilty to carrying out an unauthorised act to impair the operation of a computer.
Bassam, 18, from south London, Davis, 20, from Lerwick, Shetland, and Cleary, 21, from Wickford, Essex, all pleaded guilty to two charges - hacking and launching cyber-attacks against organisations including the CIA and Soca.
In addition, Cleary pleaded guilty to a further four charges, including hacking into the US Air Force's computers and possession of indecent images of babies and children.
Prosecutor Sandip Patel said that unlike the others, Cleary was not a core member of Lulzsec although he had wanted to be.
"It's clear from the evidence that they intended to achieve extensive national and international notoriety and publicity," he said.
"This is not about young immature men messing about. They are at the cutting edge of a contemporary and emerging species of criminal offender known as a cybercriminal."
Judge Deborah Taylor will sentence the men after considering mitigating factors highlighted by their lawyers.
Cleary's lawyer said his client suffered from Asperger's syndrome, which had been misdiagnosed as attention deficit disorder.
Botnet attack
Lulzsec's name is combination of the acronym Lol - meaning laugh out loud - and security.
It emerged as a splinter-group from the hacking collective Anonymous two years ago.
Mr Patel said the spin-off lacked the "libertarian" political agenda of the larger group. Instead, its stated goal was to laugh at others' flawed security measures "just because we could".
This involved stealing emails, credit card details and passwords from their targets' computer servers and crashing victim's websites with distributed denial of service (DDoS) attacks. This involved flooding organisations' web servers with requests sent from hijacked computers used as part of a botnet.
Lulzsec's original ringleader is alleged to be another man - US-based Hector Monsegur, also known as Sabu. He was arrested in June 2011 and later co-operated with the FBI to help it identify other members of Lulzsec. Monsegur has yet to be sentenced.
A 24-year-old Australian has also been arrested and accused of attacking and defacing a government website as part of Lulzsec's campaign.