Google Maps revamp promotes ads and personalises details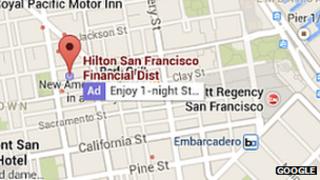 Google has unveiled a new version of its Maps web service, which it says has been "rebuilt from the ground up".
The redesign aims to personalise the product, deciding what to label to best match each user's interests.
It also features new icons highlighting businesses running ads and promotions, which overlay the map.
This may make the maps more attractive to advertisers who have tended to focus on Google's main search page and rival platforms.
The development was announced at Google's I/O developers conference in San Francisco.
Engaging ads
Until now companies running pay-per-click marketing campaigns on Google's Maps service had their locations identified by a blue pin rather than the red marker used for other businesses.
However, it was not always obvious what the pins referred to as users had to select them or cross-reference a list on the side of the screen to discover what organisation each represented.
Now the names of businesses are shown on the map itself and the first few words of their ads appear in a box superimposed over their location. In addition if they are running a special offer, a blue shopping-tag icon appears next to their name.
The firm said it hoped this would make the wider product "more engaging".
Google has spent huge sums developing its maps service, licensing third-party content and gathering its own data via sensor-equipped vehicles. But until now it has had little beyond brand loyalty to point to as a return on that investment.
While the move could help change that, it stressed that the redesign was "experimental" while it monitored feedback.
"While we test these ad formats in the new Google Maps, there won't be any charges for clicks on ads," a spokeswoman added.
"We'll keep users posted in the AdWords blog and help-centre once this changes."
The new icons will not feature on the firm's smartphone apps for the time being.
Tailored maps
Google says that the revamp was also motivated by a desire to personalise the product.
"Today everyone uses the same map," product management director Bernhard Seefeld told the BBC.
"We wondered, 'What if we could create a new map for every user in every place, at every time, billions of different maps?'"
Examples of how this will work include:
prioritising the names of locations a user has frequently searched for in the past using any Google service
highlighting restaurants and other businesses a user's friends have posted positive reviews about on its Google+ social network
ensuring all the relevant street names are labelled to help a user reach their selected destination
giving prominence to landmarks related to the one searched for - for example a search for the Museum of Childhood in Edinburgh might also pick out the city's zoo on the basis that both are of interest to families organising a day out
The firm has also simplified its user interface by replacing its cluttered left-hand column with "cards" specific to a single location.
Google Earth functionality has been built into the service so users can see the planet from space with near-live cloud data superimposed on top, or simulate a fly-by of landmarks.
A new carousel at the bottom of the screen provides access to images taken at chosen locations. It also offers interactive tours of famous buildings such St Peter's Basilica in the Vatican City which are generated by morphing between photos uploaded by users.
Dominating maps
Although Google Maps benefits from its prominence on the firm's home page, the service faces growing competition.
Nokia is investing in its rival Here product, which also superimposes weather conditions as well as offering rotatable 3D graphics of some locations. The Finnish firm's data is also used by Yahoo and Microsoft.
Apple launched its own mapping service on its mobile devices last September. It had a troubled start but there have been frequent updates since to improve its accuracy.
Other efforts - such as UK-based OpenStreetMap and Israel's Waze are seeking to harness crowd-sourced data to offer their own products. Recent reports suggested the latter was in talks to be taken over by Facebook, although the news has not been confirmed.
According to consultants Opus Research, Google already has more than a 90% share of location-based searches in the US.
It indicated the search giant would want to maintain its dominance as it shifted to services such as Google Now that push position-based suggestions at users without them having to tap in queries into its search bar.
"There are now three or four mapping companies which are viable," said Opus's senior analyst Greg Sterling.
"People are open now willing to using different mapping interfaces. It's like fashion - after a period of time change needs to occur to keep people engaged.
"So, Google wants to keep its product fresh and engaging as maps are very strategic to it both on mobile and PCs."