Teen girl blocks Twitter plot spoilers to win hackathon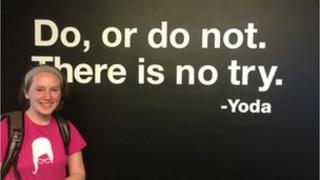 For people watching on-demand content, negotiating social media before they have watched their favourite show can be fraught.
It inspired American teenager Jennie Lamere to create software designed to stop people finding out the plot lines of TV shows and movies on Twitter.
The 17-year-old's code blocks tweets mentioning pre-set keywords.
Ms Lamere recently won "best in show" at a hackathon in Boston for her design.
She beat professional developers at the TVnext Hack event and now plans to develop her plug-in Twivo commercially.
Favourites spoilt
Ms Lamere came up with the idea the night before the competition and it took her 10 hours and 150 lines of code to complete.
She said that she had grown tired of having her own favourite shows, Dance Moms and Pretty Little Liars, spoilt by mentions on Twitter.
Twivo works as an extension of the Google Chrome or Mozilla Firefox browsers and users can specify the keywords they want to block and for how long.
For now Ms Lamere is concentrating on perfecting the Twitter version but said similar software for Facebook was possible.
Since her victory, Ms Lamere has become something of a poster girl for those determined to get more women interested in coding.
Although other women attended the event, all the other 80 competitors were male. Ms Lamere was also the only individual to enter the competition: everyone else worked in a team.
Hackathons are events where programmers, developers and designers compete to design code for innovative new programs in a set time.
Google ambitions
Ms Lamere's success has inspired groups such as the US-based Girls Who Code, which aims to redress the gender imbalance in technology.
According to the organisation, only 12% of computer science graduates are women.
Ms Lamere is due to attend the Rochester Institute of Technology, New York state, in the autumn. She will study software engineering and hopes one day to work for Google.
In his blog, her father Paul Lamere, also a developer, detailed how the win had changed her life, with multiple press interviews, offers of internships and marketing deals.
For now though, her ambitions are more limited.
"Her next life goal is to get more Twitter followers than her friend Andrew," he said.