Twitter users defeat the distance barrier and reach out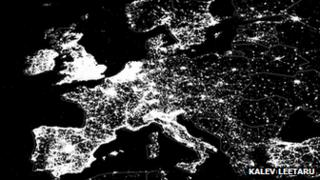 Twitter is eliminating distance and helping people stay in touch with distant friends and acquaintances, suggests a study of the social network.
The study analysed 1.5 billion tweets sent by 70 million users in one month to work out where people were.
On average, it found, people who mentioned or retweeted each other's messages were 750 miles apart.
The study also revealed that people tweeting each other the most tended to be the furthest apart.
The study, by Kalev Leetaru and colleagues at the University of Illinois, did not look at the textual content of tweets but attempted to work out where 70 million users of the service were located last October and November when they sent them.
Then Mr Leetaru and his co-researchers plotted who was communicating with whom to get a sense of the geographic distances dividing people who regularly chat via the microblogging service.
The study, published in the online journal First Monday, found that, on a typical day, the average tweet is just nine words long and 85% of those messages originate with just 15% of users.
Indifference to location
It found that Jakarta, the Indonesian capital, was the city where most geographically tagged tweets originated, with New York in second place. On average, it also showed, 750 miles separated people who mentioned or forwarded each other's messages.
The study also revealed a curious quirk of Twitter users: those who are further apart seem to be sending more messages to each other. People geographically close to each other generally send quite a few messages to each other, but if the total reaches more than nine messages a month that generally means they are talking to someone much more distant.
This indifference to location also ruled when it came to news sources or stories that were of interest. The sources people turned to or the items they forwarded to followers were rarely directly connected to where people lived.
"In the social media era, location plays a far lesser role in who we talk to, what we talk about, and where we turn for information," the authors wrote.