Syrian hackers hit the Onion Twitter feed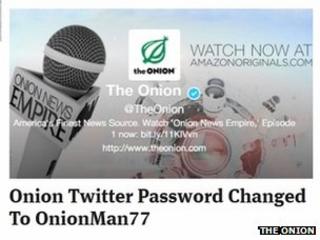 The Twitter feed of satire website the Onion has fallen victim to hackers from the Syrian Electronic Army.
The attack is the latest in a series of takeovers by the group of media accounts on the micro-blogging service.
Other media organisations previously hit by the hackers include the BBC, Reuters, CBS, the Associated Press.
And the Syrian Electronic Army has claimed responsibility for attacks that send out messages in support of Syria's President, Bashar al-Assad.
The group reportedly targeted the Onion following its publication of an article mocking President Assad's reaction to the ongoing conflict in the country.
In a message sent to the New York Times, the hackers behind the attack said the article had "savaged" Syria and hurt the feelings of many people in the country. It accused the site of being "biased" and said it should stick to satire.
The attackers posted a series of messages and pictures to the Twitter feed, many of which had anti-Semitic content.
In response, the Onion deleted the messages and sent out a series of Tweets to its five million followers, poking fun at the incident.
The Syrian Electronic Army has enjoyed a series of high-profile successes against the Twitter accounts of media groups and news organisations.
Its main tactic involves sending email messages containing a web link that takes victims to a fake Gmail or Outlook log-in page.
Any log-in details entered on the fake sites are captured and then used to access email inboxes and look for messages that contain passwords to corporate Twitter accounts.
As well as sending out messages to trick people into handing over details, the hackers have also defaced websites and tried to knock sites offline.