Abuse awareness poster is 'only fully visible to children'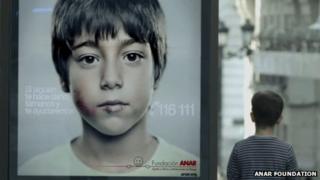 A poster than can only be fully seen when looked at from a child's point of view has been used in an anti-child abuse campaign.
Spanish organisation the Anar Foundation used lenticular printing - a technique which means those looking at different angles see a different image.
On the poster, a "secret" message showing a child helpline would show up when seen from a child's height.
The foundation said it helped children gain confidence to call the number.
The campaign was designed get the information about where to find help to children who may be accompanied by their abuser.
Seeking help
The foundation worried that if a poster containing a phone number that both adult and child could see, the adult may possibly say things to dissuade the child from considering seeking help.
The "secret" message on the campaign poster reads (translated from Spanish): "If somebody hurts you, phone us and we'll help you."
Lenticular printing is a concept which has existed for several decades - and has been used for various purposes, perhaps most memorably as "animated" stickers found on children's lunchboxes, stationery and other items.
But recent developments mean a greater illusion of depth can be achieved - meaning the technique is also used to create a 3D effect that does not require glasses.