Tablet sales soar as Blackberry boss predicts market's death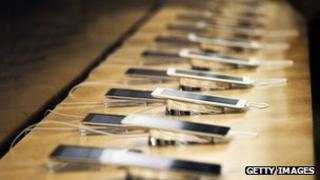 Tablet computer shipments soared in the first quarter of 2013, growing by 142.4% compared with the same period in 2012, according to analysts IDC.
Figures suggested more tablets were shipped from January to March 2013 than in the entire first half of 2012.
Apple remains the biggest brand in the market with a 39.6% share.
The figures come just days after Blackberry boss Thorsten Heins predicted tablets would be dead by 2018.
In an interview with Bloomberg, the chief executive said: "In five years I don't think there'll be a reason to have a tablet any more.
"Maybe a big screen in your workspace, but not a tablet as such. Tablets themselves are not a good business model."
According to IDC, there were 49.2 million tablets shipped in January, February and March.
Apple's iPad range accounted for 19.5 million of those devices.
While that was nearly 8 million more tablets than for the same period last year, it still meant that the US firm no longer dominated the market with the 58% share it used to have.
"Sustained demand for the iPad Mini and increasingly strong commercial shipments led to a better-than expected first quarter for Apple," said IDC's Tom Mainelli.
"In addition, by moving the iPad launch to the fourth quarter of 2012, Apple seems to have avoided the typical first-quarter slowdown that traditionally occurred when consumers held off buying in January and February in anticipation of a new product launch in March."
Other analysts have noted that many newer tablets - particularly 7in (18cm) models - were selling at almost cost price, leading to minimal profits despite the boom in units shipped.
Samsung proved the second most popular vendor with 8.8 million tablets shipped and a 17.9% market share, according to IDC.
Android powered 56.5% of all tablets shipped in the first three months of the year, while Apple's iOS was installed on 39.6% of the devices, the analysts added.
Copycats
Blackberry's own tablet, the heavily delayed Playbook, has failed to meet sales expectations since being launched in late 2011.
Mr Heins told Bloomberg that Blackberry would only consider releasing another tablet if it could be profitable.
Instead, the company is focusing on its revamped smartphone range.
"I want to gain as much market share as I can, but not by being a copycat," Mr Heins said.
But IDC's figures suggested that it would be unwise to write off the tablet format just yet.
"With growth fuelled by increased market demand for smaller screen devices, tablets have shown no sign of slowing down," the analyst firm said.
It pointed out that Microsoft, a relative newcomer to the tablet market, was making modest yet promising progress with its Surface range of tablets - 900,000 units were shipped in the first quarter.
However, the analysts warned that other Windows-powered tablets were struggling to gain traction, with only 1.8 million units sold across all vendors.