Financial traders turn to lasers for faster deals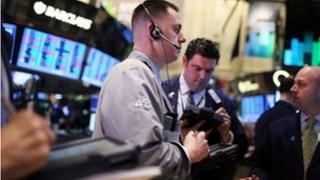 In the world of computerised financial trading, every second counts and superfast fibre-optic networks may no longer be quick enough.
Laser beam technology originally developed for the military is being rolled out to shave time off trades.
It will compete with new microwave networks that are increasingly being used by traders.
The company behind it, Anova, said it would be as fast as microwave networks and as reliable as fibre.
"There is more money being poured into this... space than at any time in its history," said chief executive Mike Persico.
The company has formed a joint venture with AOptix, which was founded by two California scientists who developed the laser technology for the US military to improve communication between fighter jets.
Initially the system, which combines lasers and wireless dishes, will be rolled out on short-range US and UK networks, with the first long-haul route between the UK and Germany being added later.
High-frequency trading (HFT) is driven by complex algorithms that allow traders to jump ahead of competitors by exploiting minute discrepancies in price on exchanges in different cities.
Market volatility
In such trading, every millisecond counts and the competition to provide ever-faster trading networks is fierce.
The first microwave connection between London and Frankfurt was turned on last October by Perseus Telecom.
According to the company, the system cut about 40% off the time taken to complete a trade compared with traditional fibre-optic networks.
They cannot entirely replace fibre optics because the signal can be disrupted by bad weather and the network has limited capacity.
HFT in Europe is believed to account for nearly 40% of total equities trading, generating 6.7tn euros (£5.6tn) a year.
The method is controversial and has also been blamed for causing market volatilities, such as the notorious flash crash in May 2010 that wiped 10% off the value of the stock market in minutes.
Increasingly regulators are looking at ways to bring in tougher rules for such trading.
Other technologies that may be used in future to help make trades even faster include the use of drones as platforms for wireless links.