Spamhaus hacking suspect 'had mobile attack van'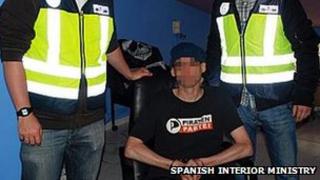 A Dutchman accused of mounting one of the biggest attacks on the internet used a "mobile computing office" in the back of a van.
The 35-year-old, identified by police as "SK", was arrested last week.
He has been blamed for being behind "unprecedentedly serious attacks" on non-profit anti-spam watchdog Spamhaus.
Dutch, German, British and US police forces took part in the investigation leading to the arrest, Spanish authorities said.
The Spanish interior minister said SK was able to carry out network attacks from the back of a van that had been "equipped with various antennas to scan frequencies".
He was apprehended in the city of Granollers, 20 miles (35km) north of Barcelona. It is expected that he will be extradited from Spain to be tried in the Netherlands.
'Robust web hosting'
Police said that upon his arrest SK told them he belonged to the "Telecommunications and Foreign Affairs Ministry of the Republic of Cyberbunker".
Cyberbunker is a company that says it offers highly secure and robust web hosting for any material except child pornography or terrorism-related activity.
Spamhaus is an organisation based in London and Geneva that aims to help email providers filter out spam and other unwanted content.
To do this, the group maintains a number of blocklists, a database of servers known to be being used for malicious purposes.
Police alleged that SK co-ordinated an attack on Spamhaus in protest over its decision to add servers maintained by Cyberbunker to a spam blacklist.
Overwhelm server
Spanish police were alerted in March to large distributed-denial-of-service (DDoS) attacks originating in Spain but affecting servers in the UK, Netherlands and US.
DDoS attacks attempt to overwhelm a web server by sending it many more requests for data than it can handle.
A typical DDoS attack employs about 50 gigabits of data per second (Gbps). At its peak the attack on Spamhaus hit 300Gbps.
In a statement in March, Cyberbunker "spokesman" Sven Kamphuis took exception to Spamhaus's action, saying in messages sent to the press that it had no right to decide "what goes and does not go on the internet".