Dutchman arrested over huge web attack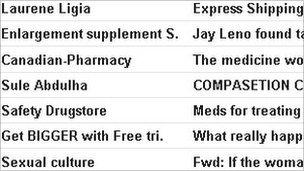 Spanish police have arrested a Dutchman suspected of being behind one of the biggest ever web attacks.
The 35 year-old-man was detained in Barcelona following a request from the Dutch public prosecutor.
The attack bombarded the websites of anti-junk mail outfit Spamhaus with huge amounts of data in an attempt to knock them offline.
It also slowed data flows over closely linked networks and led to a massive police investigation.
The man arrested is believed to be Sven Kamphuis, the owner and manager of Dutch hosting firm Cyberbunker that has been implicated in the attack.
"Spamhaus is delighted at the news that an individual has been arrested and is grateful to the Dutch police for the resources they have made available and the way they have worked with us," said a Spamhaus spokesman.
He added: "Spamhaus remains concerned about the way network resources are being exploited as they were in this incident due to the failure of network providers to implement best practice in security."
Spamhaus servers were hit with a huge amount of data via an attack technique known as a Distributed Denial of Service (DDoS) attack. This attempts to overwhelm a web server by sending it many more requests for data than it can handle.
A typical DDoS attack employs about 50 gigabits of data every second (gbps). At its peak the attack on Spamhaus hit 300 gbps.
Cyberbunker is thought to have kicked off the attack in late March after Spamhaus blocked some servers hosted by the Dutch firm. Cyberbunker bills itself as a firm that will host anything but child pornography and terrorism material.
Non-profit Spamhaus maintains what are known as "block lists" which many organisations use to spot sources of spam and other junk mail to stop them clogging mail servers and inboxes with unwanted messages.
Mr Kamphuis took exception to Spamhaus's action saying in messages sent to the press that it had no right to decide "what goes and does not go on the internet".
In a statement, the Dutch public prosecutor said the Dutchman, who it only identifies as "SK", was "suspected of unprecedented heavy attacks" on Spamhaus. The house where SK was stayed was searched at the time of his arrest and Spanish police confiscated computers, phones and hard drives.
It said it expected SK to be transferred to the Netherlands very soon. A spokesman for the Dutch police said they were co-operating with British and American authorities on the investigation into the attack.
Related Internet Links
The BBC is not responsible for the content of external sites.