Whatsapp dedicated button built into Nokia Asha phone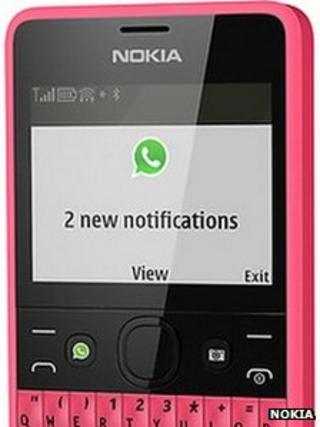 Nokia has released a mobile phone with a dedicated WhatsApp physical button.
The feature triggers the cross-platform messaging app which offers a free alternative to SMS texts.
HTC and Nokia have previously released handsets with Facebook-devoted buttons, but this marks a first for WhatsApp.
Analysts suggested the move would make WhatsApp the text app of choice on the handsets, but suggested it would have limited impact on the wider mobile phone market.
Nokia's Asha 210 runs on the firm's proprietary Series 40 operating system and will be targeted at consumers in emerging markets looking for a cheaper alternative to the Finnish firm's Windows Phone range and other companies' smartphones. The OS supports third-party web apps and software written in the Java programming language.
To achieve a targeted retail price of £47 ($72) Nokia decided that the device's 2.4in (6.1cm) screen would not be touch-enabled.
Users have to use its built-in Qwerty keyboard and navigation button to launch and operate apps, so having a dedicated key gives WhatsApp an edge over alternatives on the handset.
In addition owners of the phone are offered a subscription to the app for the device's lifespan rather than having to pay the normal annual fee.
Nokia refused to reveal the financial terms of the arrangement and said it would monitor customer response before deciding whether to include the feature on any of its other devices.
Room to grow
Silicon Valley-based WhatsApp launched in 2009.
Its chief executive Jan Joum recently told the AllThingsD tech site that his firm had more active users than Twitter which claims more than 200 million people use its service at least once a month.
Mr Joum did not give an equivalent figure of his own. However, he did say that WhatsApp processed about eight billion inbound messages and 12 billion outbound messages a day.
According to a study published by tech consultancy Ovum, WhatsApp is the world's third most popular social messaging service after Facebook Chat and Google Chat.
Reports earlier this month suggested the firm was in talks to be taken over by Google in a $1bn deal - however, they were later denied.
A survey by Ovum suggested that 51% of WhatsApp users reduced the amount of SMS messages sent after downloading the app.
That threat has prompted some telecom operators including Telefonica to launch their own rival services, while others such as India's Reliance Communications have preferred to sign formal partnerships with WhatsApp itself.
Since Nokia's Asha range is predominantly targeted at consumers in Asia, Africa and the Middle East any benefits from the tie-up will come from those territories.
"WhatsApp is doing quite well in emerging markets, but you have local players who are outstripping it simply because they are more culturally specific and can therefore outshine the US firm," said Neha Dharia, an analyst at Ovum.
"The most prominent example is in China with WeChat.
"But the emerging markets still offer huge potential for all the social messaging apps to grow because the amount of mobile internet available is still lower than in mature markets."
However, another industry watcher questioned what impact the move would have.
"Having a dedicated hard key is a nice touch and it might help differentiate Nokia's Asha line," said Roberta Cozza, research director at tech analysis firm Gartner.
"But I don't think it will make a big difference for either of the firms involved because there are already lots of affordable low-end full-screen touch-enabled Android phones out there which can be customised to offer quick WhatsApp and other messaging software."