Facebook home downloaded 500,000 times in two weeks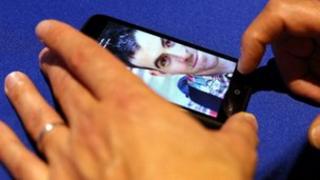 Facebook's Home app for Android phones has been downloaded more than 500,000 times from the Google Play store since its release on 4 April.
But it has received mixed reviews from users, with an average rating of 2.2 out of five stars.
The free-to-download app effectively replaces the phone's home screen with a Facebook feed and chat options.
Facebook founder Mark Zuckerberg said it could "change the relationship" people have with their mobile devices.
Some of the 11,000 reviews left for the app on Google Play mention issues with battery life and there are complaints that once Facebook Home is installed, widgets - which can be used on Android phones to customise other applications - no longer work.
Just over half of those rating the app gave it just one star, while about 1,800 gave it a top score of five stars.
While many agree it is a "good start" for the social-network giant's new approach to its mobile presence, lots of reviewers also admit it is only likely to appeal to Facebook's most dedicated users.
"If you're someone who constantly wants to be in the loop with what's going on, then this is for you," wrote one user on the reviews page. She added that she was planning to uninstall it.
Another wrote that the app was "smooth and pretty fast", but agreed "good friends" were required to keep the constant access interesting.
App growth
Tech analysis firm Canalys said that overall the smartphone app market was showing "healthy growth".
It said revenue of $2.2bn (£1.4bn) was recorded in the first quarter of the year from the four main app stores - the Apple App Store, Google Play, the Windows Phone Store and Blackberry World.
"Apps have had a huge impact on the way consumers use mobile devices, what they value, and what they expect from smart phones and tablets," said Adam Daum, the firm's head of analytics.
"This is a multi-billion-dollar growth market, with more and more consumers around the world now comfortable and confident in finding apps, downloading them and making in-app purchases, on a growing addressable base of smart phones and tablets."