App Pompeii - Visiting museums via your phone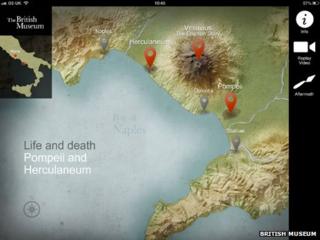 Want to experience The Life and Death of Pompeii and Herculaneum but can't travel to London for this year's hottest exhibition?
Well from today there's an app for that.
The British Museum is launching applications on Apple and Android devices which are designed to give users a virtual tour of the exhibition, with all kinds of multimedia add-ons. It's part of a trend which sees cultural organisations using digital technology to reach new audiences.
The app features interviews with experts, photos of the exhibits, and an interactive timeline which takes you through the story of life in Pompeii and Herculaneum before and after the eruption of Vesuvius in 79AD.
Another innovation in the museum's digital offering is Pompeii Live, which will bring the exhibition, along with experts like Mary Beard, to more than 250 cinemas on June 18th.
That's an approach which has been pioneered in the UK by the National Theatre, which now regularly broadcasts plays to UK and overseas cinema audiences in its NT Live programme.
The National also reaches millions of people by distributing video content about its work via the iTunes U platform, and offers schools digital resources such as interactive whiteboard lessons featuring performances and discussion of plays.
In the US, another cultural digital experiment launches today, with the arrival of the Digital Public Library of America. It will feature all kinds of artefacts and historical documents from libraries and museums, available free for a global audience to inspect online.
All of these institutions are trying to achieve the same thing - delivery of a cultural experience to people who may never be able to come through their doors. But here's the difficult bit for arts administrators: how do the economics stack up? After all, digital content can be expensive to produce and distribute.
While many of these ventures are free, the British Museum has chosen to charge for its apps. On Android phones and the iPhone you will pay £1.99, and on an Apple iPad £3.99. While it is getting harder to get users to pay for apps - except through those notorious in-app purchases - the museum may find it is on a winner with Pompeii. After all, 120,000 have already paid £15 each for tickets to the exhibition, and the catalogue will set you back £30.
Tim Plyming, head of digital at the British Museum, says the app fits fits into an overall strategy "to increase access and deliver content to a very wide audience both nationally and internationally". He says it has been produced on a "a cost recovery basis" but is a pilot for potential income generation in the future.
In harder times, cultural organisations are trying to do two things: boost their audiences and balance the books. Many of them will be watching the Pompeii app's progress up the charts to see if this kind of digital venture offers one solution.