Navevo sat-nav offers cyclist alerts to lorry drivers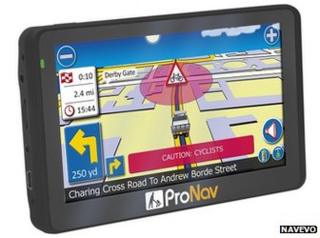 A sat-nav system which warns lorry drivers when they are approaching roads where they are most at risk of hitting a cyclist has been unveiled.
Navevo's device is currently limited to offering alerts in London where transport officials provided details of the 100 most dangerous spots.
But the Hertfordshire-based firm says it intends to expand coverage to other areas later.
A cycle safety group welcomed the news but said further action was needed.
The announcement comes just over a week since a cyclist was killed while cycling to work at University College London.
Dr Katharine Giles was fatally injured after being hit by a tipper truck turning onto a Westminster street.
Her death prompted the mayor, Boris Johnson, to discuss banning heavy goods vehicles (HGV) from the capital unless they were fitted with cycle safety equipment.
Sound and vision
According to Transport for London - which provided the hotspot data - 53 cyclists were killed on London's roads between 2009 and 2012.
Of those 28 were the victims of collisions with large goods vehicles.
The authority said it hoped latest innovation might help address the problem.
"This is the first time that this information has been made available to a company specifically to provide additional information for HGV drivers," a spokesman told the BBC.
"We are happy to work with other developers should they wish to provide similar information within their products."
In Navevo's case the data will be used to flash a warning symbol on its sat-nav maps when a driver approaches a "warning zone" with a 50m (164ft) radius circle drawn around the area.
In addition the machine can be set to sound an audible tone when the vehicle enters the highlighted space.
The firm said it opted not to sound the alarm at every junction as it would have proved counterproductive, but said that it planned to add to the initial 100 locations in London as well as expanding to other cities.
It added that the updates would be offered to all purchasers of its ProNav PNN420 system free of charge.
"The safety of drivers, cyclists and other users of the road is a concern for everybody and we are proud to lead the navigation industry by launching this world first safety feature," said chief executive Nick Caesari.
British Cycling - the national governing body for cycling which campaigns on road safety - said the move was a step in the right direction.
"Any technology that can help protect cyclists is welcome and we applaud TfL and Navevo for coming up with a system that can warn drivers about particularly dangerous junctions," said policy director Martin Gibbs.
"However, this issue cannot be solved by technology alone.
"Over half of cyclist deaths in London involve HGVs so we'd like to see restrictions on the times when they can enter cities as well as mandatory fitting of sensors, side-bars and better HGV education on cyclist awareness."
Navevo's system is based on historic data showing the most popular cycle routes and common HGV travel plans, and seeing where they coincide.
However, Volvo recently unveiled a more active approach to the problem.
The Chinese-owned vehicle manufacturer has announced an update to its pedestrian detection radar system which will also identify cyclists. If a collision is anticipated the system sounds an alarm and automatically deploys the brakes.
The optional extra is due to be introduced in 2014 and will initially be limited to seven car models in the firm's range.