Leap Motion seals HP deal to embed gesture control technology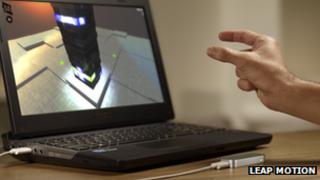 Motion-control company Leap Motion has announced a deal to embed its technology within HP computers.
The controller is able accurately to detect the movement of 10 fingers at once, allowing for intricate gesture-based controls.
Initially, the product will be aimed at consumers as a gaming and entertainment device.
But the firm's president Andy Miller said partnerships with car and medical industries would be announced soon.
"Leap Motion is not a toy," he told the BBC.
"It'll take some time - everything that people use on computers has been written for the mouse and keyboard for the last 20 years, but I think people will see that the software written for the Leap is intuitive and people will want to interact that way."
The product is similar in function to the popular Microsoft Kinect gaming peripheral, but is designed to be used at much closer range, and can detect more intricate movements.
Robot surgeons
The HP PCs that will have the hardware built in will be available by the summer, Mr Miller said.
In the meantime, the current Leap Motion Controller accessory will be sold bundled with HP machines, as well as being sold separately.
Software written for the device will be made available in a dedicated app store.
Beyond home computing, Mr Miller said he expected to announce more partnerships soon.
"Our technology has already been tested with surgeons," he said.
While the device seemingly takes heavy design inspiration from Apple, Mr Miller - a former employee - said there is no deal with the Macbook-maker on the cards.
"Apple's not big in partnering and playing nice with the field and creating relationships," he said.
"I'm not sure if under Tim [Cook] things will change. We've definitely had conversations with Apple on a lot of fronts, but HP was much more aggressive and made us a great deal."