Hackers steal Ubisoft's unreleased Far Cry video game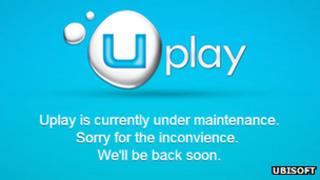 Ubisoft has halted sales of PC video games from its online store after hackers discovered a way to download titles without paying.
It has confirmed an unreleased game - Far Cry 3: Blood Dragon - was among the software copied from the servers running the firm's Uplay service.
The breach was discovered after a video clip showing in-game footage was posted to YouTube.
The France-based company said its engineers were working on the problem.
"We are aware of the issue and are working to resolve it quickly," said a spokesman.
"Uplay's PC download service will be unavailable until the problem is fixed, but no personal information was compromised and all other Uplay services remain available."
Piracy sites
Ubisoft launched its Uplay service in 2009, initially offering online access to its own titles but later expanding its range to include games from Electronic Arts, Square Enix, Warner Bros Interactive and others.
Users are offered rewards - such as extra weapons or characters - as an incentive to use the service. It competes against rival platforms including Valve's Steam, EA's Origin and Activision Blizzard's Battle.net.
News site Gameranx was first to reveal that hackers had discovered a way to breach its security and download games free of copyright protection.
"The hackers developed a piece of software which tricks the Uplay executable into believing that the user has ownership over games that they do not own," wrote Ian Miles Cheong.
"It is possible to acquire the direct download link for the game and play it offline, thereby bypassing the Uplay DRM [digital rights management protection]."
He added that a playable version of Blood Dragon - a science fiction spin-off from last year's Far Cry 3 - had become available as a consequence and had subsequently been posted on several file-sharing sites.
This is not the first problem Ubisoft has experienced with its service.
Last year the firm had to release an emergency patch after reports that the Uplay web browser plug-in left users vulnerable to having their PCs hijacked.