Microsoft accuses Google of pushing services to Android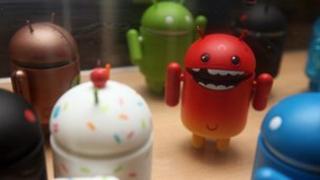 Microsoft has accused rival Google of pushing Android handset makers to use its applications such as YouTube and Maps.
Along with Oracle, Nokia and 14 other tech firms, Microsoft has filed a complaint with the European Commission.
The group, known as FairSearch, argues that Google is abusing its dominance of the mobile market.
In response to the filing, Google said: "We continue to work co-operatively with the European Commission."
Trojan horse
"We are asking the commission to move quickly and decisively to protect competition and innovation in this critical market," said Thomas Vinje, Brussels-based counsel for FairSearch.
"Failure to act will only embolden Google to repeat its desktop abuses of dominance as consumers increasingly turn to a mobile platform dominated by Google's Android operating system," he added.
Android is now the dominant mobile operating system, accounting for 70% of the market, according to research firm Gartner.
The complaint describes Google's Android operating system as a "trojan horse", offered to device makers for free. In return they are "required to pre-load an entire suite of Google mobile services and to give them prominent default placement on the phone," the complaint reads.
Privacy policy
Google is also under fire for its common user privacy policy which groups 60 sets of rules into one and allows the company to track users more closely.
Last week six European data protection agencies, including the UK and France, threatened legal action if Google did not make changes to its policy.
In October a European Commission working party said its privacy policy did not meet Commission standards on data protection.
It gave Google four months to comply with its recommendation.
Google maintains that the new policy "respects European law".
Microsoft itself is no stranger to EC scrutiny. In March it was fined 561 million euros (£484m) for failing to promote a range of web browsers in its Windows 7 operating system.