Paris Brown: Could 'right to be forgotten' help?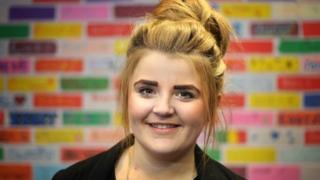 Tearful teenager Paris Brown sobbed on television at the weekend as offensive tweets she had posted years prior to her appointment as Britain's first youth police and crime commissioner were picked up by the media.
Some of the tweets were about sex, drinking and drug taking, while others were considered to have been potentially homophobic and racist.
She described the tweets as "stupid, immoral" and apologised profusely for their content - but also said she didn't believe they should play a part in her life today.
"I don't think they should shape my future and my career and how I'm going to represent young people," she said of the tweets she posted between the ages of 14 and 16.
Her new boss, Kent police and crime commissioner Ann Barnes, said Ms Brown was "learning very quickly" about her public persona.
Right to be forgotten
Ms Brown has now deleted her Twitter page, but under a European Commission proposal known as "the right to be forgotten", EU citizens would also be entitled to ask companies such as Twitter to delete their data from the firms' servers.
Those organisations would then be obliged to comply unless there were "legitimate" reasons not to.
After the unveiling of the proposals last year, designed to replace 27 individual regulations in place in member countries, a spokesman for European Justice Commissioner Viviane Reding told the BBC they were drawn up with young people in mind.
"They are not always as aware as they could be about the consequence of putting photos and other information on social network websites, or about the various privacy settings available," he said.
So would it have helped Paris Brown?
"The idea that it would have had much impact here would be over-stated," said Jim Killock, head of the Open Rights Group, a campaign group for privacy and consumer rights online.
"It may be that [Ms Brown] could have asked for the account to be deleted in full but it wouldn't remove the historic record of what she said, which might well be in other caches," he added.
That is because material posted onto Twitter is public, so it is collectable by any other website or individual, and the "right to be forgotten" only applies to the source company, Mr Killock explained.
"The right to be forgotten is more about the right to delete or erase," he said.
"Twitter as a private company might be asked to remove data but it doesn't put anyone else under the right."
In any case Ms Brown may not have had access to the proposed directive at all from her home in Kent, as UK Justice Secretary Chris Grayling opposes it.
"The UK does not support the 'right to be forgotten' as proposed by the European Commission. The title raises unrealistic and unfair expectations of the proposals," said the Ministry of Justice in a statement.
"We are also concerned about potentially impossible requirements for data controllers to manage third-party erasure; the 'reasonable steps' required by the draft regulation would promise much, but deliver little."
'Unclear and un-enforceable'
Mr Killock disagrees.
"Everybody wants to be part of a single data protection regulation, apart from the UK government," he said.
Mr Killock dismissed the UK's current data protection laws as "inconsistent, unclear and un-enforceable" but not all businesses want to turn their backs on them, said BBC technology correspondent Rory Cellan-Jones .
"The EU plan for a 'right to be forgotten' has raised the stakes in the battle over our online privacy," he said.
"Consumer groups have welcomed the policy as an essential protection in a fast-changing world - while major technology firms are complaining that it will be impractical and damaging to investment in Europe.
"But with more and more examples of the damage our online histories can cause, the pressure to give consumers more control will only grow."