Gransnet local service aims to bring over-50s closer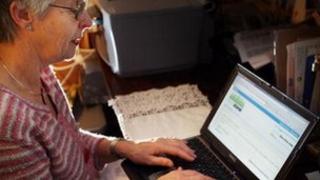 The website Gransnet, an online community for the over-50s, is launching a series of local sites.
The new service has received money from the Nominet Trust, a charity which funds technology projects with a social purpose.
So far 20 "local editors", all aged over 50 themselves, have been recruited by the site.
Ofcom figures suggest that 7.5 million UK adults have never been online, and two fifths of those are aged over 75.
"Many older people in the UK are still not online, leaving them potentially isolated and at a disadvantage," said Martha Lane Fox, the UK's Digital Champion.
Baroness Lane-Fox said she hoped the local Gransnet service, which will contain information about events, classes, volunteering opportunities and other activities relevant to specific areas, would offer an incentive for more older people to get online.
The first wave of areas to receive the local service includes Blackburn, Edinburgh, Oxfordshire and Worthing, but "anonymous locals" have already started their own versions in Lancashire, Warwickshire, Exeter, Kent, Leeds and Liverpool, according to Gransnet.
"Our members have already started meeting up of their own accord and local sites will make that much easier," said Gransnet editor Geraldine Bedell.
"Occasionally in the past our members have admitted to sometimes feeling lonely... Gransnet Local will extend the support and friendship we offer online into meet-ups and will provide a forum to discuss everything that's going on locally."
Author Kathy Lette, TV presenter Judy Finnegan and actor Timothy Spall are among the high-profile names who have contributed to the Gransnet website.
Recent popular discussion topics include "does sexual fidelity matter?" and "large families", and some of the responses do highlight generational differences.
"I know of a woman who discovered that her husband was being unfaithful because she realised that someone was darning his socks," is the current "quote of the week".