Facebook home: First impressions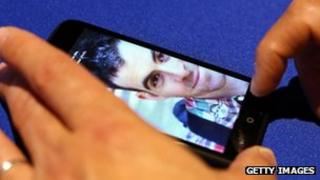 Facebook nailed its mobile colours firmly to the mast with the launch of home - code that wraps around Android and puts the social network on the start screen of a handset.
The launch was fairly low key but what does everyone else think?
Here is a short round-up of what the world's technology-watchers thought of Facebook's mobile moment.
Technology press
"In introducing Facebook home on Thursday, CEO Mark Zuckerberg said that the company was building it first for Android.
"But, in reality, Facebook really can't do many of the same things for the iPhone.
"Zuckerberg acknowledged this in responding to a reporter's question, saying that anything deeper on the iPhone will probably have to come in collaboration with Apple."
Matt Warman, Daily Telegraph (UK):
"Two questions jumped out at me from what we've just watched.
The HTC First looks like another beautifully designed HTC smartphone, but who will buy it?
Facebook home will be available on the HTC One X and Samsung Galaxy S3 from 12 April.
It will be no bad thing for HTC if consumers opt for the more expensive One range, but with Samsung leading the way in the smartphone market, heavy Facebook users may choose the S4 when it comes out."
Darrell Etherington, TechCrunch:
"Chat heads has a very dumb name, but in practice it actually looks very practical. You have a running conversation that jumps from app to app, and can either use Facebook's own Messenger product, or your phone's built-in SMS to communicate.
"It's actually a surprisingly smart way to think about mobile messaging, and it's surprising it hasn't been done before. Again, I can't even believe that they went with "chat heads" as the actual name, but it looks like a very promising service.
"And potentially a big blow to cross-platform messenger apps like WhatsApp, LINE, and others."
Hunter Skipworth, Pocket-lint (UK):
"Facebook and its partners have announced the HTC First, making a major u-turn on something it said it would never do: launch a Facebook phone.
"It won't be for everyone, but Facebook does hope to tempt you in with a clever Android user interface tweak.
"As launchers go, Facebook home looks impressive from the brief demo we've seen already.
"It promises to drastically change your smartphone the moment you install it and ramp up the social side of things no end."
"An app called Coverfeed overhauls the home screen and the lock screen, giving you updates on what your friends are doing without you having to launch an app, or even unlock your phone — and you'll get ads in all the same places.
"You can comment or like posts from your home screen — it feels incredibly native.
"Everything is full-screen and incredibly visual, really looking nothing like Android.
"Notifications are sorted by friend, rather than app — it says when your friend is doing something, rather than letting you know that an app has something new for you. Facebook wants to make your phone a lot more like your news feed."