Ticket machine card fraud rise in EU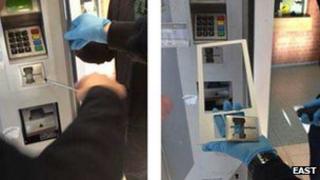 Five out of 23 European countries reported an increase in card-skimming devices attached to transport ticket machines, according to new research.
A report published by the European ATM Security Team (East) in March also found a rise in skimmers found on parking ticket meters in two countries.
Card skimmers, which steal bank card data, are more commonly attached to cash machines by criminals.
Unstaffed pay-at-pump petrol stations were also targeted in six countries.
The report did not identify individual countries but France, Germany, Russia and the UK were among those which supplied information about card fraud activity to East.
British Transport Police told the BBC that while it is was aware of the issue on rail ticket machines it was "not a major problem" in the UK.
According to the UK Cards Association, fraud losses on cards in the UK alone totalled £185m in the first six months of last year.
Once the card data has been copied, fraudsters can then get a cloned card made containing the information of the original account holder.
Chip-and-pin
While many European countries have adopted EMV (Europay, MasterCard and Visa) card security - known as chip-and-pin - America has not.
Cash machines in the US still read data from the magnetic stripe on the back of an inserted card, so even those with a chip-and-pin have a stripe as well.
"Because chip-and-pin is not yet widely supported in the United States, skimmer scammers who steal card data from European ATM users tend to ship the stolen card data to buyers or co-conspirators in the United States, where the data is encoded onto fabricated cards and used to pull cash out of US ATMs," security expert Brian Krebbs wrote in a blog post.
"The latest report from East continues to emphasise that most card fraud, stemming from skimming incidents in Europe, is in fact perpetrated outside of Europe."