Microsoft faces European open software probe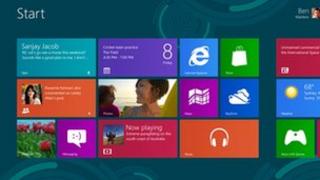 A Spanish group of open-source users has accused Microsoft of making it difficult for users of Windows 8 to install alternatives.
The group of 8,000 Linux developers has filed a complaint to the European Commission about a mechanism that locks out other operating systems.
Microsoft said the mechanism was a security feature.
Earlier this month the commission fined the firm 561m euros (£484m) for failing to offer users a choice of web browser.
The Hispalinux group told Reuters The Unified Extensible Firmware Interface (UEFI) Secure Boot in Windows 8 was "a de facto technological jail for computer booting systems... making Microsoft's Windows platform less neutral than ever".
Its 14-page complaint said users needed to request digital keys from Microsoft to install another operating system.
Microsoft said in a statement: "UEFI is an industry standard aimed at improving computer security and the approach has been public for some time.
"We're happy to answer any additional questions, but we are confident our approach complies with the law and helps keep customers safe."
Richard Edwards, a principal analyst at research firm Ovum, said: "I can't see too many purchasers of Windows 8 calling foul over this.
"Microsoft will argue that the reason the technology has been developed is to provide enhanced security."
In January, when the issue was raised by a Euro-MP, European Competition Commissioner Joaquin Alumnia said the commission had no evidence the Windows 8 security requirements violated EU competition rules.