EE launches 4G service in Cumbria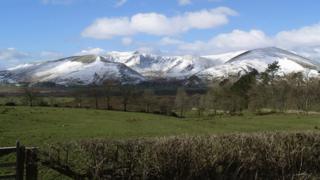 In an effort to prove that fast broadband is not just for the cities, mobile firm EE is bringing 4G to rural Cumbria.
The service will be limited to the Northern Fells' 2,000 residents, who will be able to get speeds of between 8Mbps and 12Mbps.
Cumbria is one of the most isolated areas of the UK when it comes to fast broadband.
EE promised to use the launch to develop more rural coverage.
Government cash
The service will be rolled out to 84% of the Northern Fells over the next few months.
As well as providing 4G on mobiles, the network will also offer fast mobile-broadband for homes and offices. This service will require some homes to have a special antennae to be fitted and is available on request. According to EE it will offer speeds of up to 20Mbps.
EE has been running a 4G mobile broadband trial in a small part of the Northern Fells since May 2012.
"We are overcoming the challenges of delivering rural connectivity," said chief executive Olaf Swantee.
However the new rollout will make only a small dent in Cumbria's ongoing connectivity problems.
There are some half a million households in the county, and the council has received one of the largest handouts from government to improve broadband services.
Cumbria initially rejected a bid from BT to provide fast fixed-line broadband, but it has since signed an agreement with the firm.
There are also several community-based projects in the county, offering superfast-fibre broadband to villages.
Positive step
The 4G service from EE will be available from £15.99 a month. EE has set up a website for anyone wishing to register.
Seb Lahtinen, co-founder of broadband news website ThinkBroadband, said: "Delivering decent broadband service to such a sparsely populated area is a challenge that 4G LTE [long-term evolution] technology can tackle more quickly than most alternatives."
Local MP Rory Stewart said: "The 4G trial that started last year has already made a substantial difference to people in the Northern Fells community, and it is a hugely positive step to see this being moved to a full launch."
As part of its 4G licence agreement, rival O2 has committed to providing indoor coverage to 98% of the UK population by 2017.