Twitter celebrates its seventh birthday
By Zoe Kleinman
Technology reporter, BBC News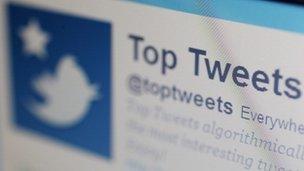 Twitter celebrates its seventh birthday on Thursday with 200 million users worldwide, who now send an average of 400 million short messages - or tweets - every day.
On Wednesday, Budget day, Chancellor George Osborne joined the micro-blogging service and posted his first message on its website.
However, it isn't everybody's cup of tea.
Private Eye editor Ian Hislop has compared middle aged men on Twitter to "fathers dancing at a wedding". And BBC Radio 4's Today programme presenter John Humphrys once used the show's Twitter feed to advise users to "stop counting letters. Get a life instead".
The service, originally called "stat.us" and then "twittr", was launched in 2006 by Jack Dorsey.
Now people use Twitter to campaign, share and discuss news, fundraise, propose marriage, challenge authority - and try to catch the eye of teen heart-throb Justin Bieber, who at time of writing has more than 36 million followers.
Here is how some make use of Twitter
THE CAMPAIGNER: LUCY-ANN HOLMES, NO MORE PAGE THREE CAMPAIGN (@NOMOREPAGE3)
Lucy-Ann Holmes runs a Twitter-based campaign aimed at ending the Page Three girl feature in the Sun newspaper. She has gathered nearly 90,000 signatures in support.
We launched the campaign at the end of August 2012.
Nobody had heard of us, but on the first day we hit Twitter we got 170 signatures and a journalist from the Huffington Post got in touch and said she wanted to write an article about us.
On Twitter everyone is so accessible - you can tweet anyone. With Facebook, you have to be friends with them first.
Having said that, when you're a new account and you send out unsolicited tweets, you can get suspended. We got suspended three times! But if you are new the only way you can get known is if you tweet or follow people who don't know you.
We do get flurries of sexist comments - people telling us that we have horrible breasts or that we must be lesbians (interesting really, when you consider that we have men working on the campaign). But then a lot of people will swoop to our defence.
We have a "one response and then out" reply policy, although if they're really rude they don't get a response at all. Now I'm reading more about Twitter's official policies - I have had some quite scary violent messages that with hindsight I should have reported.
But overall I utterly recommend Twitter - it is so warm and alive.
THE CORPORATION: BT (@BTCARE)
In April 2009 we picked up that musician Mike Skinner (also known as The Streets) had tweeted about not being happy with BT Vision. He had 26,000 followers, which back then was a lot.
We decided we could either take it as feedback or we could contact him - so we rapidly set up the BTCare Twitter ID and reached out to him.
He responded really quickly, and when we resolved the issue he came back on Twitter and thanked us. That was an amazing thing, and it has been the foundation for everything we've done on social media ever since.
If somebody phones us, my expectation is we'll answer the call and help them. If somebody contacts us on Twitter, we should do the same - it would be rude to ignore them.
These days 40% of the people who tweet us do that as their first point of contact. They haven't phoned or emailed first. We have a team of 25 people based in Northern Ireland who look after all our social media outlets.
I think Twitter is really good for business. Clearly we are dealing with customers who aren't happy, and we are doing that very much in public eye, but lots of customers respect the fact that we are on Twitter at all.
BT supports all the 999 calls made in the UK, and during the London riots, we saw a phenomenal increase in calls. It was becoming really challenging to take every call so we tweeted a message saying please only call 999 in an emergency. Within 20 minutes we saw a 40% reduction in calls as people were re-tweeting us and spreading the word.
It's not about the number of followers you have, it's about the amount of influence you have. If you only have one follower but that follower is [US President Barack] Obama, you have a lot of influence.
THE CELEBRITY: NEIL GAIMAN, AUTHOR (@NEILHIMSELF)
I'd resisted for about a year. I thought: "I've got a blog, why should I want Twitter?"
I think it was Jonathan Ross who talked me into it. He said: "This is fun, you should sign up."
For the first few weeks I just used it to talk to friends. Then I slowly got outed as a few people figured who I was.
The problem with Twitter - which is the power of Twitter - is that you are publishing into the world. It's out there with the same power whether you have one follower or whether you have three million followers.
I tend to follow people I know, or people who interest me, but I'm very aware if I try and follow everybody then I end up following nobody - the signal-to-noise [ratio] will get to the point where it is all noise.
The joy of Twitter is that it's a stream, you step into it, you step out of it.
I will occasionally pride myself on having said something funny or smart in 140 characters.
I'm a writer. I love a well-crafted sentence.
One day you're coming down an airport escalator and you think: "Yeah…," and you post it.
And then you get in the car and forget all about it.
Taken from a previous interview by BBC News.
THE ANALYST: BRIAN BLAU, CONSUMER TECHNOLOGIES EXPERT (@BRIANBLAU)
Brian Blau is a research director at analyst Gartner.
You can look at the world in terms of before and after Twitter. Before Twitter, from a consumer standpoint, lots of news and information services were out there, but we hadn't really been deep into the mobile-app revolution.
Apple launched the iPhone in 2007 - and for many that was the start of mobile computing. Until then people weren't out in the world with their smartphones wanting to communicate with everybody.
In the world after Twitter, suddenly people have access to real-time news and information.
They can quickly put out a thought or get an indication of a trend that's happening. Prior to Twitter, those services didn't really exist. We had RSS feeds but people didn't have that with them at all times.
The limited content you can put into Twitter forces people to put their thoughts into a really succinct form. They can type quickly and pass stuff around quickly.
This is the real revolution. It's given consumers a lot of power, not only in what they say but who they can reach.
But people need to be mindful about what they say on Twitter. It's a powerful tool, not only can you embarrass yourself personally, if a company makes a misstep on Twitter they can really upset their business.
You can follow the BBC on Twitter in a variety of ways. For breaking news go to @BBC Breaking, to find out which correspondents regularly use Twitter, there is @BBC News Official and all the latest tech news is on @BBCTech