Raspberry Pi heads for the open ocean
By Mark Ward
Technology correspondent, BBC News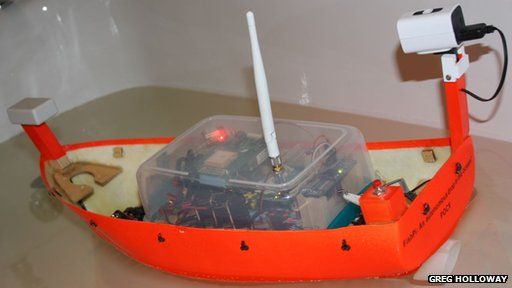 In the same way that sport reveals character, the Raspberry Pi is revealing the creativity of the people who own one of the barebones computers.
Confronted with that tiny device, some have seen a way to play old arcade games, as a media server or to monitor their sleeping children. There are some that have used a Pi to control balloons that float to the edge of space.
And then there is Greg Holloway.
On receiving his Raspberry Pi, Mr Holloway did not want to try anything that he calls "a bit run of the mill".
So, he thought big. Almost as big as it gets.
His Raspberry Pi will be used to control a robot boat that will pilot itself across the Atlantic Ocean. If the little craft succeeds in crossing thousands of miles of ocean, it will have completed a task that currently can only be done by robots that cost more than £200,000. Not bad for a gadget that cost only a few quid.
"I just wanted to do something a bit more adventurous," he said.
Work on the Fish Pi hardware and software has now been under way for about 12 months. It has got beyond the concept stage and now, said Mr Holloway, he has all but completed tests on the hardware that will be on-board the finished robot craft.
The Pi will be at the centre of the small, solar-powered craft, taking in data from sensors that measure the environment through which the ship is sailing.
The Pi will not just log data but will be constantly called on throughout the voyage to control the speed of the craft's engine and work out which direction it should sail. It will have to be robust as the journey across the Atlantic is likely to take a few months.
Also on board will be an anti-collision system that will help the craft avoid bumping into human-piloted ships while on the open ocean.
The Raspberry Pi will also handle communication with the control centre on land and constantly report its position.
"We should have complete two-way communication," he said.
All the hardware has been installed on a proof-of-concept (POC) vehicle that will act as a test bed so early bugs can be ruled out before being transferred to the final roving robot craft.
The proof-of-concept vehicle is only about 12in (30cm) long and all the components sit in the hull of a model boat.
"I built the POC to get familiar with the components and concepts," he said, "I've never done anything like this before."
The Fish Pi that will be venturing across the Atlantic will be much bigger than the concept vehicle. Early plans suggest it will be about 5ft 6in (1.7m) long, 2ft 11in (90cm) wide and its hull will be made of carbon fibre. Development costs will be about £15,000, estimates Mr Holloway.
Ultimately, Mr Holloways hopes to recoup his costs by putting together a kit that anyone can buy to turn their Pi into a robot boat.
Already, he said, he has had interest from oceanographers keen to cut the cost of the craft they send out to gather data.
Software to help the Pi control the craft is being written by project member Al Gray and should be finished soon. With that installed and on-board, proper water trials will begin. Mr Holloway has permission from a local model boat club to use its lake as a proving ground.
Mr Holloway admits that the scale of the project has been daunting.
"We all have day jobs," he said of the project members, "so it's taking a bit longer than I anticipated."
This also makes him reluctant to commit to a firm launch date for a finished Fish Pi.
However, he's confident that the water trials will start soon and that then work will begin in earnest on the full-scale robot boat. Mr Holloway is undaunted by the sheer difficulty of what he and his fellow project members are taking on.
"It's a serious project," he told the BBC. "You cannot take on the Atlantic on a whim."
Related Internet Links
The BBC is not responsible for the content of external sites.