Samsung's New Galaxy - goodbye Google?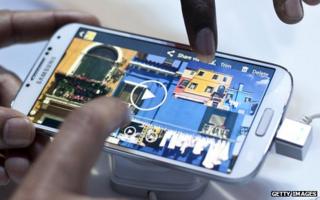 I didn't make it to New York for the Samsung Galaxy S4 launch, but it didn't matter - I could sit in my kitchen at 11pm watching the live stream over YouTube.
And so by midnight, having watched the show from Radio City Music Hall with a live online audience of something over 300,000, I was able to reach the following conclusions:
That the new phone is bound to be a best-seller, with some innovative features, but won't transform the mobile landscape.
That Samsung looks determined to make the Android platform and Google vanish from users' view, hidden under its own branding and services.
And that the very idea of a mobile phone launch has now jumped the shark with this latest bizarre spectacle.
The show, staged at what must have been vast expense, featured brief appearances from a couple of Samsung executives before the stage was taken over by a cast of actors. We were then treated to a mini-drama which saw the many features of the phone shown off by the compere, his family and his friends.
It's hard to describe quite how excruciating this was - imagine an under-rehearsed school play without the benefit of a friendly audience to laugh at the awful jokes.
It almost served to obscure the genuine innovations of the Galaxy S4, which Samsung's press release describes with typical restraint as "a life companion for a richer, simpler and fuller life... developed to re-define the way we live and to maximise our fulfilment of life."
It may not quite do that - but the live demo of the new translation service looked very clever, as did the standout eye-tracking feature which enables you to pause a video by simply looking away, then restart it by focusing on the screen again.
Samsung also appears to have taken gesture and voice control of the phone a stage further, and its S Health software, coupled with a series of accessories, transforms the phone into a powerful health-monitoring device, offering new competition in a growing market.
Most of these innovations, however, will be of marginal interest to most users - how often do you find you need to translate something into Mandarin on the move? And might it get a bit annoying if the video paused every time your attention wandered?
To the untrained eye, the S4 will look much like the S3 - and not radically different in its capabilities from many of the other high-end smartphones on the market, from Sony's Xperia Z to the HTC One X. Like them it is built on Google's Android platform, but last night it seemed determined to gloss over that.
There was hardly a mention of Android all evening, and I'm pretty sure the word "Google" never crossed anyone's lips. Instead the letter S predominated - S Translator, S Voice Drive, S Health - as Samsung stressed its own services.
When Android first appeared, the issue for all the brands using it was how to stand out from the crowd. Companies like HTC tried adding their own "skin", but have still ended up being seen as just another Android.
But Samsung, with a combination of huge marketing spend and the genuine excellence of its products, has won the battle to be top dog in the leading mobile operating system. Now it appears to want to go further - to make customers forget they are using an Android altogether.
Samsung and Apple have managed to make huge profits from smartphones in the last two years, while just about all their rivals have struggled to stay in the black. But the markets seem to have decided that from now on, software and services are going to be a better route to profit for both firms than hardware.
Samsung is positioning itself for that new world, where its users will live and shop in a Samsung world with their data stored on a Samsung cloud. For its rivals, and for Google, whose control of the Android ecosystem may be threatened, that is a worrying prospect.