Samsung Galaxy S4: First impressions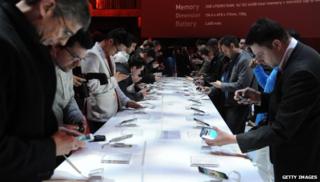 A big band, Broadway show tunes and cringe-worthy scripted fun - Samsung's New York launch event for its new smartphone, the Galaxy S4, earned top marks for effort.
The company predictably says it is "packed full of innovative features", but what does everyone else think?
Here is a round-up of what the world's technology watchers thought of Samsung's moment in the spotlight.
Technology press
Luke Johnson, Trusted Reviews:
"Perhaps not the out-and-out game changer some were expecting, the Samsung Galaxy S4 is, on first impressions at least, certainly a new dominant force on the Android smartphone scene.
"Sure to go head-to-head with the likes of the iPhone 5 and HTC One over the coming months, the Samsung Galaxy S4 is set to benefit from a raft of immersive, engaging and performance-enhancing features that will complement the improved hardware to create an all-round impressive device."
Matt Warman, Daily Telegraph (UK):
"What the S4 offers is a comprehensive package of features, starting with a remarkable screen offering far more pixels than the human eye can perceive. The addition of Air View, which allows users to interact with the touchscreen without actually making contact, offers more information instantly; waving your hand in front of the screen to browse forward or backwards makes the phone suddenly seem like a natural thing to use in the kitchen while cooking or when your hands are full at your desk.
"It's not a revolution but it's certainly an improvement. Hovering a finger above the screen means you can choose articles from each category of the special version of Flipboard, for instance, and never waste time with the ones that don't interest you."
"Samsung is riding high on the success of the Galaxy S3 and from what I've seen, the Galaxy S4 is a worthy successor, with innovative features packed into a familiar housing. It's a bit of a shame that Samsung announced the phone without giving a price or release date, but at this point, with Samsung the global sales and innovation leader in smartphones, it can do pretty much whatever it wants."
Rik Henderson, Pocket-lint (UK):
"Bells and whistles aside, what will sell the Samsung Galaxy S4 more than any other aspect - more even than sheer brand loyalty - is the display. It is as vibrant as ever before seen on a Super AMOLED display, but with full HD (1920 x 1080) crispness to boot. That's 440ppi, for those that are counting, the same as the Sony Xperia Z.
"From our initial play, that's what has been burnt on to our retinas, for sure. Is it a major step up from the Samsung Galaxy S3? Probably not for many. But there's certainly enough that's new to promote it above being the Samsung Galaxy S3S."
"Samsung's consistently on the bleeding edge of smartphone horsepower, and that continues here: the Galaxy S4 is built to fly. It'll be sold with either a Samsung Exynos 5 or Qualcomm Snapdragon S4 Pro processor, depending on region, and every model will come with 2GB of RAM, a big 2,600mAh battery, and 16, 32, or 64GB of storage (plus a microSD slot if you want to add more).
"The 5in display is the belle of the ball, of course, and it looks great - we don't love the PenTile subpixel arrangement, but on such a high-res display it didn't seem to cause any problems. Viewing angles are great, colours pop on the Super AMOLED display, and the bezels on the device have been slimmed to the point where the screen feels even larger and more immersive."
"Throngs of Android and Samsung fans will flock to the Galaxy S4. The only other smartphone in the industry that can command such good will is, of course, the iPhone. Even if the next iPhone enjoys only a few slight upgrades - which could be the case with a rumored iPhone 5S on the way - demand for the phone will still be sky high.
"That's kind of how it feels with Samsung and the Galaxy S4. The company isn't quite at the level where fans will wait in line for the phone, but the Samsung fanboys are starting to grow as vocal - if not more so - than the Apple faithful.
"At this point, the Galaxy S4 is a runaway train, something Samsung couldn't stop even if it tried. The rest of the industry better watch out."
Technology fans
@billm85 on Twitter: "Samsung galaxy #s4 - one word to describe it.. #yawn"
jrfoster01 on Reddit:"What a disappointing B Grade release. Didn't even get an applause from the audience. Stick to features and professionalism, not gimmicks and crappy acting."
@Dude_Im_Jason on Twitter: "Must say the samsung galaxy s4 looks pretty slick."
SDM19 on Reddit: "It's pretty sad that such a weak technological advancement warrants such a ridiculous ceremony... I'm ashamed to have watched it."
@rayyamartino on Twitter: "The group that should be most worried about the Galaxy S4? Google. Samsung is slowly taking the platform away."
@m109z on Twitter:"Thank you samsung for launching a galaxy S4 that does not make my S3 look redundant."