Hotmail and Outlook hit by ongoing fault, Microsoft confirms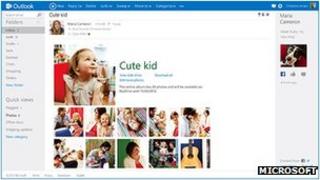 Users of Outlook and Hotmail webmail services have been hit by a lengthy fault, Microsoft has confirmed.
A status message informed users on Wednesday morning about the issues, with the company adding it was "working to restore service right now".
Users reported not seeing emails that should have reached their accounts.
Microsoft is in the process of migrating millions of users from Hotmail, which launched in 1998, to new Outlook.com accounts.
Problems began to hit the services on Tuesday evening, with Microsoft acknowledging it had a problem at 21:35 GMT.
According to reports, some users noted being unable to see certain emails in the accounts, while others reported email was simply inaccessible altogether.
A message posted to Microsoft's service status page on Wednesday morning said: "Fixing the problem is taking longer than we hoped. We apologise for the lengthy interruption in service."
It said a further update would be posted by Wednesday at 13:12 GMT.
'Seamless and instant'
Some users have suggested there have been similar issues on the SkyDrive cloud storage service, but Microsoft has offered no comment on those reports.
Hotmail users will be migrated to the new Outlook.com service, but can retain their Hotmail.com email address should they wish.
The move has been seen as an attempt by the Windows-maker to claw back ground lost to competitors such as Google, whose Gmail service has proved immensely popular since its launch in 2004.
In a blog post explaining the changes, Microsoft's David Law wrote: "When we say that we're confident Outlook.com is the best email choice for consumers, we mean it.
"As Outlook.com comes out of preview, we're also announcing that we will soon upgrade every Hotmail user to Outlook.com.
"The upgrade is seamless and instant."