Heads in the cloud: Strava adapts to tackle reckless racing
By Leo Kelion
Technology reporter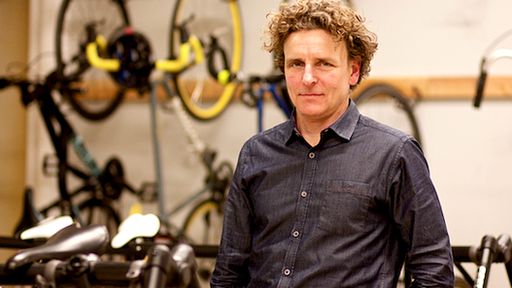 Passions run high when athletes discuss Strava.
The app is either the best thing to happen to training in years, or it transforms users into inconsiderate egotists more concerned about topping online leader boards than road safety,
Two deaths have been linked to the service.
At the same time, you would struggle to find a healthier user-base.
So it was with a little trepidation that I arrived at the firm's San Francisco headquarters to meet its boss, Michael Horvath.
The former Stanford University economics lecturer co-founded the firm four years ago, but the idea behind it - a social network tracking and comparing cyclists' and runners' activities - had been in gestation for decades.
"We first had the idea back in 1994," says Mr Horvath. "It would have been manual entry instead of uploading global positioning system (GPS) data, it would have been emails going out to friends about what kind of workout you did.
Instead Strava is growing quickly. Its free-to-download software collects data from location sensors in smartphones, sports watches and standalone GPS devices and then uses the information to produce maps of where users have been and tables analysing their performance.
A monthly fee unlocks deeper insights such as a Segment Intensity Score showing the average power used to complete the hardest-going 20 minutes of a workout, and statistics for how it compared with other sessions over recent weeks.
But the product is perhaps best known for its leader boards.
These allow members to compete to be the fastest at covering a segment of road or trail.
Thanks to GPS and the internet, users can do this without needing to be in the same place at the same time.
Victors declare themselves King or Queen of the Mountain (KOM or QOM), in the style of the Tour de France race.
Mr Horvath was a rowing team captain at Harvard University and says Strava was born out of his desire to replicate the feeling of being part of a sport-themed community.
"The impetus for the idea was thinking how do we recreate this when we aren't connected to people anymore through our daily existence, when we are busy with work and family and everything is pulling us and taking us away from our life as an athlete," he says.
"We want to create that feeling of that virtual connection to other athletes that are like us."
Strava is far from being the only firm to offer sensor-based activity stats. But Mr Horvath says what distinguishes his app from RunKeeper, Nike Plus or Couch-to-5K is that it is firmly targeted at the fittest athletes rather than those seeking a motivational push.
"Our people are active," he says. "I am sure that there are people in their families who say they are obsessed about cycling.
"But we are not making them more obsessive, what we are creating is a place for them to tell their story. They have these habits anyway and we're giving them the place to present it in a way that's meaningful to them."
Even so, online forums contain testimonials of users saying they have become "addicted" to clocking up as many KOMs as they can.
And it's also easy to find critics suggesting the software encourages cyclists to jettison trail etiquette in favour of trying to shave seconds off their time.
"We're certainly not trying to polarise," Mr Horvath says.
"We can communicate, 'Don't be that guy, use good judgment. Remember that there are other people on the trail.' And I think we spread that message."
He adds that he has made efforts to emphasise other activities, including sharing photos and comments and helping users achieve a measured pace of training. And he suggests any leader-board-inspired bad behaviour is likely to be short-lived.
"I spend no time looking where I stand on the leader boards - I look at how I am doing relative to my previous performances," he says.
"You realise that there is always going to be somebody faster than you. Surely you weren't thinking you were the fastest cyclist in your neighbourhood.
"So that maturation of the athlete on Strava is something I think that we'll see more clearly."
Even so, the firm has been unable to escape controversy.
A cyclist currently faces charges of manslaughter in San Francisco after accusations he ignored a red light and crashed into a 71-year-old pedestrian who later died from head injuries. According to prosecutors, the accused was using Strava at the time.
In a separate case, the family of a cyclist who died while trying to regain his recently beaten KOM title in 2010 is suing the firm.
William "Kim" Flint had been clocked going over 40mph (64km/h) downhill before he braked to avoid a car, causing his bike to flip over.
His family's lawyer said Strava was partly responsible because it had created a "Wild West culture where that is encouraged and rewarded with no warnings about the risks".
Mr Howarth says Strava urges its members to use common sense and not to push too hard for a specific time - but he says he cannot discuss anything directly related to the case.
"We certainly understand that we're operating in a consumer space where the potential for legal matters to arise exists, and it's something that we have to plan for and be prepared for and we certainly are," he says.
He adds that he tries to ensure his 50-strong team of employees are not distracted by such news.
He relaxes as we move to the less contentious topic of Strava's growth plan.
He's coy about giving exact figures, but says the firm currently has "millions" of active users. Most of them use the Cycling app, but he says Strava Run is being adopted at a faster rate.
The UK, Australia, Italy and France are his current focus for international growth. But he adds he is working to ensure current members do not drop away as they pass peak fitness.
"We are working on algorithms that will allow to give an age-adjusted pace. So, looking at someone who is not in your age group... you can get some sense of how you rank relative to that person," he says.
"But as I get older, I am less interested about how fast I am going, I'm more interested about how much fun I am having. And so that again goes back to storytelling and the social aspect which is at the core of Strava - that connectedness to other athletes."
Related Internet Links
The BBC is not responsible for the content of external sites.