Microsoft's Windows Phone platform to get BBC's iPlayer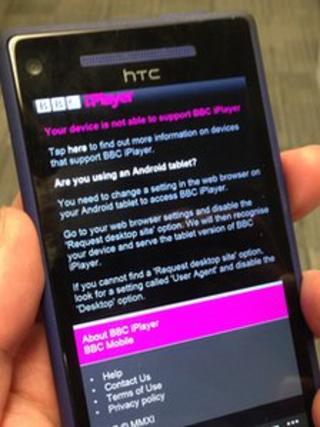 The BBC has announced it is to bring iPlayer to the Windows Phone platform.
Handsets running Microsoft's mobile operating system cannot currently access the catch-up TV and radio service.
Rather than create a native app the BBC plans to allow a web-based version of iPlayer to be accessed via a live tile - or square icon - on the Windows Phone home screen.
A spokesman added that the corporation continues to work on its Android app.
The BBC has faced criticism that its iPlayer app for the Google-designed system offers fewer features than its iPhone equivalent.
Dave Price, who heads up the iPlayer team, has previously said that Android was "complex and fragmented with a huge difference between video playback capabilities" for different devices, causing problems for his developers.
However, he added that it was his goal to offer "feature parity" between the two most popular platforms.
Signed deal
The BBC's effort for Windows Phone 7.5 and 8 mirrors how it brought iPlayer to Blackberry 10 earlier this year.
By wrapping the iPlayer mobile website together with its proprietary Media Player plug-in, the broadcaster can offer access to streamed feeds of its material but will still not be able to let users download programmes for offline use - as is the case with its iOS app.
A spokesman for the BBC would not reveal whether any money had changed hands saying the organisation did not "comment on specific costs" relating it to its iPlayer agreements.
The move comes months after Microsoft agreed to pay the BBC a fee to use some of its online news stories within its Windows 8 desktop Bing Daily news app.
However, a spokeswoman for BBC Global News said this latter agreement was a "commercial content licensing deal" and completely separate to the iPlayer contract.
App holdouts
According to market research firm IDC, 437,000 Windows Phone handsets were shipped to the UK in the October-to-December quarter, representing 4.9% of the market.
One telecoms consultant said that securing local content deals - as is the case with iPlayer - would prove critical to Microsoft efforts to boost that figure.
"News that Blackberry 10 had beaten Windows Phone to the punch in getting iPlayer will have sent shockwaves across Microsoft and its partner Nokia - and they will have doubtless moved mountains to get the service supported," said Ben Wood, director of research at CCS Insight.
"The success or failure of mobile platforms is predicated by the apps and services they support.
"Developers have prioritised Apple and Android, and Microsoft faces a problem in that it is still missing some big name apps and those it does have are sometimes not maintained to the same level - offering the same richness of features - as its dominant rivals."
Nokia recently revealed that the Windows Phone Store now hosts more than 130,000 apps.
However, the marketplace still has notable holdouts including Instagram, Photoshop and an official Dropbox app as well as games including Minecraft, Grand Theft Auto and Temple Run.