Film studios target 'pirate' mobile apps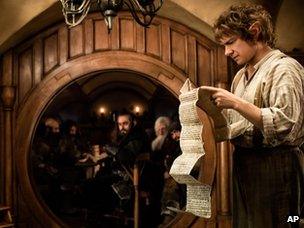 Film studios are starting to target mobile applications that use copyrighted images and film clips without permission.
All the big five movie studios have told Google to remove Android apps that "pirate" content, reports Reuters.
The rogue apps were taking images and clips from films such as The Hobbit as well as popular TV shows like Glee.
About 90% of Oscar-related apps use material that may not have been properly authorised, a survey suggests.
Brand monitoring firm IP Lasso's study of 100 Oscar themed apps found 90 made use of material they might not have licences to reproduce.
Reggie Pierce, head of IP Lasso, told Reuters: "With the rise of the second screen comes a new band of villains who pose a serious threat to the entertainment industry's move to mobile."
Mr Pierce said film studios were "actively monitoring" app stores for programs that did not have licences or permission for the movie and TV show images or clips they use.
A spokesman for the Motion Picture Association of America (MPAA), which represents film studios, told the news agency that apps for smartphones were a "growing problem" that needed to be addressed.
Most recently action was taken against an Android app called Hobbit 3D Wallpaper HD that let people use stills from the film as a background screen on their handset. Google removed the app soon after being notified about its unlicensed use of images.
In the past, film studios have pursued Google, Apple and others over apps that use content from films such as Ted, Spiderman and Green Lantern.
The MPAA spokesman said many apps that pirated content were malicious in other ways.
"They also pose risks to consumers from malware and often fail to provide viewers with the quality product they could often get through a growing number of legitimate sources," said the spokesman.
Ciaran Bradley, head of handset security at security firm Adaptive Mobile, said copyright infringement on phone apps was nothing new and had been seen since the days of ring tones and other extras.
However, he said, the MPAA risked overstating the threat posed by apps on official marketplaces.
"When using unofficial channels consumers can expose themselves to more risk, especially if they download free or pirated versions of apps that are normally charged for," he said. "but this applies to all pirated apps not just ones containing Hollywood content."
Related Internet Links
The BBC is not responsible for the content of external sites.