Valve boss Gabe Newell awarded Bafta fellowship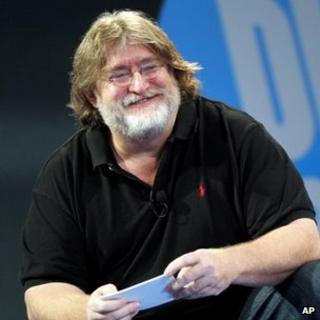 Valve boss Gabe Newell is being made a fellow of the British Academy of Film and Television Arts for his outstanding contribution to video games.
The fellowship would be officially bestowed during the Bafta video game awards on 5 March, the academy added.
Valve had helped to foster a vibrant game-playing community, creating influential titles such as Half Life, Team Fortress 2 and DOTA 2, it said.
Mr Newell said it was an "honour" for himself and everyone at Valve.
He also praised UK players of Valve games, the country's press that had supported the company and the work of UK "modders" such as Garry Newman.
Bafta video games committee chairman Harvey Elliott said Mr Newell's contribution to the games industry was "unique".
Rather than just make games, said Mr Elliott, Valve also let players become creators by giving them access to tools that let them modify or "mod" the studio's creations.
Valve runs the online Steam gaming service through which many players buy and manage their games.
The company is also working on a Steam "box" - a set-top device that will let people play games on a big-screen TV in their living room.
Other Bafta fellows from the video games industry include Peter Molyneux, Shigeru Miyamoto and Will Wright.
In 2012, Markuss Persson, also known as Notch, who created Minecraft, was honoured with a special award in recognition of the success of the block-building game.