Oscars 2013: Inocente is first Kickstarter-backed film to win prize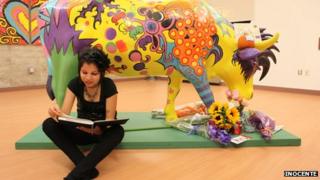 The true story of a 15-year-old homeless girl has become the first Kickstarter-funded film to win an Oscar.
Inocente was made with the help of $52,527 (£35,000) raised by 294 backers in June last year.
The documentary was awarded with the prize for best documentary short at the ceremony.
Two other crowd-funded films, Kings Point and Buzkashi Boys, were also nominated but came away empty-handed.
Speaking to Mashable, Inocente's co-director Seth Fine said of crowd-funding: "It really helped galvanise a community."
"It helped fund a bunch of the film and kept us going through post-production. It's a great outlet for films, especially for documentaries."
The win has been seen as further proof that crowd-funding has established itself as an important revenue stream for independent film-makers looking to abandon traditional routes to the screen.
Other sites such as Indiegogo and Wefund.com also back films.
"Crowd-funding has become a very important part of any film-maker's finance strategy," said Elliot Grove, founder of the Raindance Film Festival and British Independent Film Awards.
'Feeling pretty good'
He told the BBC about 30% of the 250 films on show at Raindance last year had been crowd-funded - a "huge increase" on the previous year.
Among them was How Do You Write A Joe Schermann Song, which won the film-of-the-festival award.
"It means that you cut out the middleman," Mr Grove told the BBC. "You go straight to the money and go straight to the audience.
"The crowd-funders will have a personal stake in this - if you put 50 or 100 bucks on an Oscar-winning film, you'll be feeling pretty good about yourself today."
In previous years, other Kickstarter-backed films have been nominated, including Incident in New Baghdad, Sun Come Up, and The Barber of Birmingham.
The films have been met with considerable critical acclaim. According to website Rotten Tomatoes - which creates an aggregate score based on hundreds of film review sites - three of the 20 best-reviewed films of 2012 were Kickstarter-funded.
Backing a cause
Mr Grove said he believed that while crowd-funding allowed film-makers to circumvent traditional studios and publishers, it had not meant a drop in quality.
"The lower barrier to entry is not so much to do with crowd-funding, but to do with digital film-making.
"If anything crowd-funding means the films are better because they have to convince the audience, their funders, that what they're making is worth making."
A blog post by Kickstarter earlier this year revealed that since launching in 2009, the site has raised $85m (£56m) for independent films, funding more than 8,000 individual projects.
The majority of this money has gone towards documentary films. Mr Grove credits this to the appeal of backing not only a film, but a cause.
"Often they are about topics that are shunned by the normal funders because they might be too risky or politically incorrect - which makes what we as viewers get to see so much more interesting."